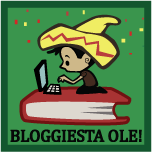 The Bloggiesta weekend is over. It's time for a look back over what was achieved and what is still left to do. You can see all the links to the wrap-up posts on Suey's blog as they are added.
Firstly, thanks so much for the organisers of the event. What a great turn out! I'm sure the tips and tricks shared have made a lot of blogs just a bit (or a lot) more awesome this weekend! Make sure you check out the list of mini-challenges, there's some brilliant information there.
Sadly, I didn't get to spend much time at all on bloggy stuff over the weekend. Most of the time I did get was taken up with theme tweaking, but I did manage to get a quick look at some of the other things on my list, plus some surprise extras.
Goal 1: Choose a new theme and install it
Theme browsing is exhausting and generally soul-destroying. After looking at themes all week, I eventually settled on the free Responsive Twenty Ten, a child theme of the WordPress.org Twenty Ten theme. Responsive themes are supposed to make the site look good on any platform: computers, tablets, smartphones. Unfortunately, Oaken Bookcase was very broken when I looked at it on my mobile. I've fixed it for now with the WPTouch plugin, but I might look into a different responsive theme instead.
Generally speaking, I love the new theme. It has the wider post area that I was after and I can get my other requirements from plugins. There are a couple of things that are bugging me, though.
One is with images – I can't resize them or centre them. I'm not sure why. The other is that to change the post background colour and menu bar colours, I'm going to have to make a copy of the style.css and fiddle with it. That's not a huge problem, I can do that, it's just… I don't want to 😀
Overall I'm pretty happy with the way the site is looking now. I may fiddle with another couple of themes before I settle on one, but I know I can always come back to this one and be happy.
Here's the before shot for comparison (click for bigger):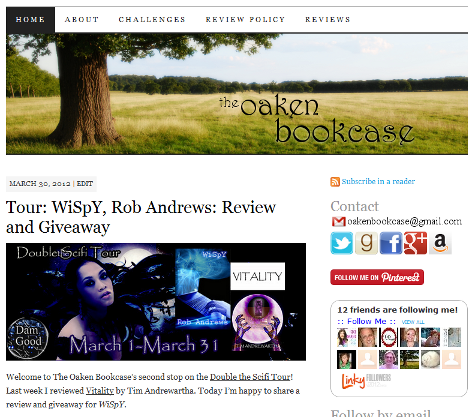 My other sub-goals were listed on my Five For Friday post:
Goal 2: Rethink what needs to be in the sidebar
Thanks to the mini-challenge at The Reading Fever, I took a good look at my sidebar and removed and moved a few things. I cleaned up my social media buttons and tried to think about what people use the sidebar to find. I hope I've improved it – it still needs a bit of work but it's getting there.
Goal 3: Learn about Search Engine Optimisation
Good Books & Good Wine had a great mini-challenge on SEO. I learned a lot about what I need to include in my posts and meta information, but I have yet to actually implement it. This one goes back on my to-do pile.
Goal 4: Blogroll update
Totally didn't get to this one, but I believe the plugin WP Social Blogroll might meet my needs (thanks, Phillipa – incidentally, go and check out her new blog, Tea, Daydreams & Fairytales!).
Goal 5: Sort out my Goodreads shelves
I had a quick buzz through my Read shelf and shelved everything, plus re-arranged my to-read shelf a little. It still isn't perfect but I'm going to call this one done for the moment!
Added bonus content:
Installed CommentLuv plugin, thanks to the plugins mini-challenge from Jenni Elyse (will probably add a few more this week)
Installed Star Rating for Reviews plugin, thanks to the mini-challenge at The Bluestocking Society (I love the look of this blog!)
New blog background. Original image is from Beyond-Oddities at DeviantArt – thanks very much to Ellie for your help with finding it! She also found me some neat free wooden-look social media icons, but I will keep them tucked away until I can get a full set with Goodreads and Pinterest buttons too.
Further to-do items:

Fix theme mobile issue.
Re-create Reviews page, possibly as a gallery.
Create personalised images for IMM, WWW and Friday features (or fix existing).
Featured posts slider (work in progress).
Add things for SEO including meta information to existing reviews.
Tweak style.css (or find a theme that has easy colour tweak options).
All comments/criticisms/suggestions on what I've ended up with are most welcome!
I hope you had a fun Bloggiesta weekend and met all of your goals!
Feel free to link me your spiffed-up blog and show it off 🙂