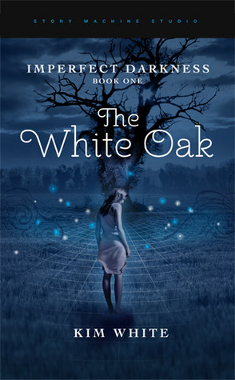 Title: The White Oak (Goodreads)
Author: 

 Kim White (@kimwhitebooks)
Rating:





Cora Alexander falls through a sinkhole and enters the underworld still alive. Her living presence threatens the tyrannical rule of Minos and the infernal judges who have hijacked the afterlife and rebuilt it, trapping human souls in a mechanical, computer-controlled city that lies at the core of the earth. To survive, Cora must rely on her untrustworthy guide, Minotaur, an artificial intelligence built by Minos.
Details
Series: Imperfect Darkness 1 (of 4 planned)
Genre: YA Fantasy
Published: Story Machine Studio, April 9, 2012
My copy: Digital ARC from NetGalley
No paper copies available.
E-copies: Amazon.com • Amazon.co.uk • Barnes & Noble
Review
The White Oak certainly begins with a bang, with Cora falling into the Underworld and starting her terrifying adventure right from the first page.
Cora must venture across the River Tartarus and into the city of the dead to rescue her twin brother and find her way out again. The story is a whirlwind of adventure, with Cora flung from one adventure to the next. It's never clear what will come next – I loved the fast pacing of the story.
The story is based on the Greek underworld mythology with a high-tech twist. The shining gem of this story has to be the descriptions and imagery. White's Underworld springs out of the page in vivid detail. Some of the scenes in The White Oak are rather dark and nightmarish – in fact most of the story feels quite dreamlike. I certainly wouldn't want to be on that ferry across the river.
Cora is a strong-willed and determined heroine. She seemed as confused about what was happening to her as I was – she certainly asks a lot of questions of every character she runs into! This inquisitive nature helped describe what was happening, but occasionally slowed the story down a little.
The only part of the story that I felt really stopped the flow was the last couple of chapters. This instalment of the series ends with a very detailed courtroom scene, completely different to the rest of the tale. The ending doesn't really feel like a real ending, but rather like the first and second books were once joined together and have been split into two separate volumes.
The White Oak is a fantastic first part in this series. I'll be eagerly awaiting the next!
Interview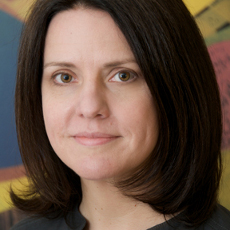 I'm very pleased today to welcome the author of The White Oak, Kim White to the Oaken Bookcase!
Angelya: Firstly, congratulations on the upcoming publication of The White Oak today!
Kim: Thank you!
 A: Would you mind telling us a bit about yourself?
K: I'm a creative person—happiest when I'm making something. I've been really fortunate to have had opportunities to work on amazing projects. I'm primarily a writer, but I also have a degree in studio art and was a sculptor for many years. I was one of the artisans who worked on Jeff Koons' candy heart sculpture, which set a record at auction, and his balloon dog sculpture which made a cameo appearance in: Night at the Museum: Battle of the Smithsonian. My son got a huge kick out of that. I was also a fashion designer, graphic designer, and for the last seven years I've been a digital product manager in charge of creating games, websites, and apps.
A: What kinds of books do you like to read?
K: Can I answer that one with a book quote? In The Golden Compass, when Lyra is learning to read the alethiometer, Farder Coram tells her: "…you mustn't grasp at the answer. Hold the question in your mind, but lightly, like it was something alive." I like stories that have to be handled this way, like mysteries that you are puzzling out, but that could easily disintegrate if you get too literal. The books I fall in love with and return to tend to have this quality.
A: What does your writing space look like?
K: I work full-time and am a mother and wife, so out of necessity I've trained myself to write anywhere. I take a small netbook computer with me so that I can write on the train during my commute. Right now, I'm writing from a hotel room during a business trip. When I'm at home, I write in my sun room, a wonderful little room with one wall of bookshelves and three walls of casement windows. The old windows make it too cold in the winter and too hot in the summer, but I don't mind because it makes me feel like I'm writing outdoors—which is my favorite place to write.
A: Much of the action in The White Oak is quite nightmarish or dream-like. Do you ever use dreams for story ideas?
K: I'm inspired by dreams, but the dreams themselves are usually too opaque or non-sequential to sustain a long narrative, so I haven't used them as story ideas. I have worked hard in this book to evoke the feeling of a dream and of a dreamer trapped in a world that she thinks she can't escape, even though she has all the tools to do so.
There is a phenomenon in dreaming called lucid dreaming. In a lucid dream you realize that you are dreaming and that you can change the dream. Some believe that the lucid dreamer's ability to alter dreams can carry over into waking life. This is one of the ideas I'm exploring in the Imperfect Darkness series.
A: In the White Oak, Lucas plays and writes a computer game. Are you a gamer?
K: I've dabbled in game design and am hoping to make a very modest game for the Imperfect Darkness series, but I don't know if I can call myself a gamer. My husband and son laugh at me because I spend a lot of time looking at games, admiring them, and thinking about them, but the ones I get obsessed with are simple games like Solitaire. Not sure, but I think being obsessed with Solitaire automatically disqualifies me from claiming gamer status.
A: The White Oak ends on a bit of a cliffhanger. Can you share with us when the next book is due for release? We must know what happens!
K: The publication date for book two, Sword of Souls, is August 6. I'll be posting the opening chapters on the website in May. Readers, please hang in there!
Thanks very much for joining me on the Oaken Bookcase!
You can get in touch with Kim via Twitter (@kimwhitebooks) or on her personal site, kimwhitebooks.com.
The White Oak is available in e-book format today, April 9th. No trees will be harmed in the making of this book. Get your copy from:
(also available via Overdrive and iTunes)
What did other people think of The White Oak?