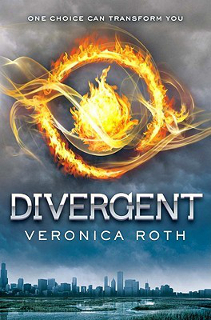 Title: Divergent (Goodreads)
Author: 

 Veronica Roth (@VeronicaRoth)
Rating:





In a future Chicago, 16-year-old Beatrice Prior must choose among five predetermined factions to define her identity for the rest of her life, a decision made more difficult when she discovers that she is an anomaly who does not fit into any one group, and that the society she lives in is not perfect after all. (Goodreads)
Details
Series: Divergent #1 (of 3)
Genre: Young Adult Dystopia
Published: Katherine Tegen Books (HarperCollins)
Paper copies: Amazon.com • Amazon.co.uk • Book Depository
E-copies: Amazon.com • Amazon.co.uk • Barnes & Noble
Review
Unless you've been living under a rock (or blissfully disconnected) for the last few weeks you have probably seen the book blogosphere and Twitter exploding with #divergentNation tweets and giveaways. This is the book that began it all. The second book in the series, Insurgent, will be released on May 1st, 2012 and is the reason for all the chatter.
Fortunately, Divergent lives up to all the hype. It's fast-paced and tense, with plenty of raw emotion. I loved it!
Beatrice is raised in a section of society where selflessness is valued above all – faction Abegnation. At the age of sixteen, she and her fellow classmates undergo tests to assess their suitability for one of five factions (a bit like a grown-up sorting hat): Abegnation, Dauntless, Amity, Erudite or Candor. The final choice is their own, but most teenagers are expected to remain with their own childhood faction. Beatrice, feeling like she doesn't fit in Abegnation, instead chooses to join the Dauntless.
The trials that the newly renamed Tris and her fellow initiates must undergo to become full faction members are tortuous and terrifying. The horrors of each trial jump out of the pages and I had to keep on reading to find out what would happen. I couldn't help wondering why anyone would choose to go through the harrowing process of facing one's fears over and over. A lot of reviews compared this book to The Hunger Games, and I guess the similarity is there – there's a fair bit of violence and cut-throat competition. 
The good side of the training and initiation is that Tris meets Four, one of the instructors. The romance is fairly slow burning and kind of difficult, since they need to pretend not to have anything to do with each other. When they are together though, there is delightful chemistry.
The one thing that I found a bit odd in Divergent was that we never find out what's going on in the rest of the world outside the city. Is Chicago now alone as a city-state in a big empty world? We find out barely anything about the original war that caused the factions to be formed, either. I hope some of these questions will be addressed in Insurgent.
By the way, I'm for Amity!
Pre-order Insurgent and Free Four!
HarperCollins have announced that if they get 35,000 pre-orders for Insurgent, they will release a scene from Divergent written from Four's point of view. Just click the widget below and order away (feed readers will have to click through)!
It's done! The extra scene has been released! Click here to read it.
What did other people think of Divergent?