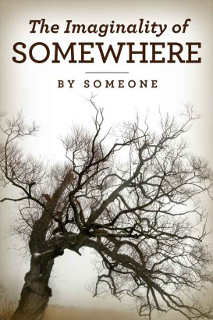 Title: The Imaginality of Somewhere (Goodreads)
Author: Someone
Rating:





The very brave and adventurous Ellie, as she would like to be described, and the always sensible and logical Thomas, move, with their parents, to a forsaken farmhouse due to falling on hard, economic times. But there is a reason this farmhouse was abandoned. Ellie and Thomas discover perplexing carvings, travel to a troubled mythical land and have encounters with incredible creatures. As their adventure unfolds, they realize the mythical land unlocks a special power within them and discover their mysterious connection to it.
Details
Series: The Imaginality Series (1 of ?)
Genre: Children's fantasy
Published: CreateSpace, February 19 2012
Paper copies: CreateSpace
E-copies: Amazon.com • Amazon.co.uk
Review
The Imaginality of Somewhere is described as being for "ages 8+ or for all those who are young at heart". The story is certainly aimed at a very young age group, although I did enjoy reading it. The language used is quite simple and where larger words are used, they are usually explained.
The story gently takes the reader away from everyday life and into the Imaginality of Somewhere, another realm where imagination is the key. The scenes come to life off the pages and although it took me a little while to get used to the "narrator" style of storytelling, I realised that it would be perfect for reading this book aloud to a child.
The slow and gentle story doesn't present anything groundbreaking or new. It sticks with a safe and not-too-scary climax, which was slightly disappointing – there is so much potential in a world where imagination is a creative force, but The Imaginality of Somewhere just didn't deliver. I'm sure children would still love to read this book as an introduction to fantasy stories.
There are more books planned for this series. I'll be interested to see what the story develops into.