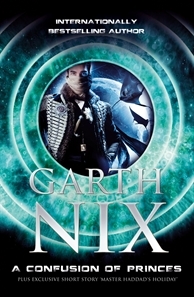 Title: A Confusion of Princes (Goodreads)
Rating:





I have died three times, and three times been reborn, though I am not yet twenty in the old earth years by which it is still the fashion to measure time. This is the story of my three deaths, and my life between. My name is Khemri.
(Goodreads blurb)
Details
Series: Stand alone
Genre: Young Adult, Science Fiction
Published: Allen & Unwin, April 8, 2012 in Australia. HarperCollins in UK and USA – hardcover will be released May 15, 2012.
Paper copies: Amazon.com • Amazon.co.uk • Book Depository • Booktopia
E-copies: Amazon.com • Amazon.co.uk • Barnes & Noble
Review
Khemri was taken from his parents at a young age and trained, enhanced with "bitek" and brainwashed, ready to become one of thousands of Princes. The Princes are the ruling class of the Galaxy, taking orders from the Imperial Mind and ultimately, the Emperor. Khemri is looking forward to acquiring a ship and heading off with his household of mind-controlled servants, priests and lackeys to explore the Galaxy. He soon finds out that the Empire has other plans for him.
A Confusion of Princes starts by throwing the reader into the deep end of cultural and technological immersion. There's a lot of information in the first few chapters and not a whole lot of action, but things do get rolling before too long. The story of Khemri's Naval training and the events afterwards are told in a non-emotional way, but the descriptions of the worlds and technologies are detailed and fascinating. Garth Nix is a great storyteller once he gets into it and the action in the second half of the book was almost non-stop and exciting.
I found it hard to like Khemri. He starts out as a self-important brat and stays that way well into the book. Gradually he starts to think about others rather than just himself, but he does so in a cold, logical way. Halfway through the story, he meets Raine and it's a little weird that he suddenly has feelings for her, considering that he has been raised and trained to never know love or affection.
We hardly hear anything about Raine herself. They barely meet before she's throwing herself at him, and then the whole romantic aspect was kind of skipped over. Considering this was a pivotal moment in Khemri's development, I felt it could have been given a little more attention.
There's plenty of action, space battles and hand-to-hand combat in A Confusion of Princes. Fans of high-tech Science Fiction will love it, but the more traditional young adult readership may be frustrated with the glossing-over of romance. While I enjoyed the tech and the action sequences, the story was a little cold for me.