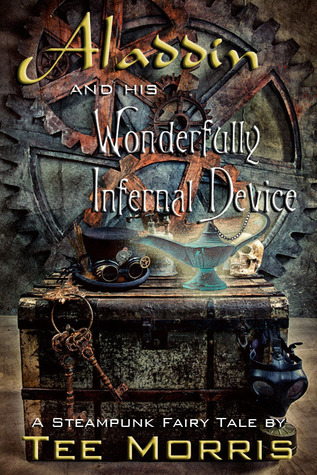 Title: Aladdin and His Wonderfully Infernal Device (Goodreads)
Author: Tee Morris (@TeeMonster)
Rating:





From the imagination behind the award-winning Ministry of Peculiar Occurrences series comes a steampunk novella to a legend from A Thousand and One Arabian Nights. 
Aladdin is a street-wise thief that finds himself under the tutelage of a world-renown illusionist. He is escorted deep into the deserts in search of a treasure beyond his wildest dreams, and discovers instead something far more valuable—a destiny.
Details
Series: Stand alone novella
Genre: Steampunk-ish fairy tale
Published: ImagineThat! Studios, February 2012
E-book only.
E-copies: Amazon.com • Amazon.co.uk • Barnes & Noble
Review
I love the story of Aladdin, and I'm not ashamed to admit that the Disney version is one of my favourite animated movies. Tee Morris' steampunk'd version of the story has just enough mechanical contraptions to qualify for that label, while remaining fairly close to the first part of the commonly told version.
The story is set in Baghdad, with the thief Aladdin on the run from the law. A sorcerer claiming to be Aladdin's long-lost Uncle finds him and invites Aladdin to join him to make his fortune, but what he's really after is an old lamp, buried in a mystical cave in the desert. What adventures lie in wait for Aladdin in the cave?
The novella of Aladdin and His Wonderfully Infernal Device is fast-paced and reads just like a screenplay, and the mechanical devices are delightful and are a great addition to the story. My only gripe is that it's too short – I would love to hear what the Sultan's palace and the Princess are like in this version of Baghdad.
I enjoyed Tee Morris' storytelling style and I think I'll have to add the Ministry of Peculiar Occurrences series to my wishlist!
 Warnings: None, it's squeaky clean.