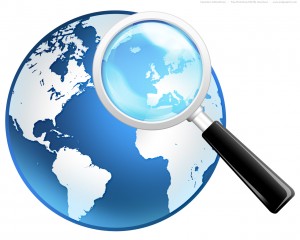 After the end of Armchair BEA, it was suggested that someone put together a list of bloggers by city and state (and country, presumably) to make it easier for meet-ups and such. Correct me if I'm wrong here, but I believe we have Sarah of Breaking the Binding to thank for this great idea!
Being the map nerd that I am, I thought a map might work a bit better (also, I've seen how brilliantly this has worked for other blogging communities). So, here we go.
Where in the world are you?
Instructions
1. Open the Google Map below in a new window.
2. Click the button that says EDIT. **You may need to log in to Google first**
3. Select the "Add placemark" button: 

 It's in the top left of the map.
4. Click on the map in your location. You don't have to put it on your house – I've put mine on Brisbane's City Hall, for example. It's up to you!
5. Edit the description of your point (ie. not the map description on the left sidebar) with your name, blog address and/or other details like twitter. You can use html so you can include your blog button and live links too if you wish.
6. Once you're done editing, click Save and Done. Your point will be saved for others to see. If you close the map window without saving your point will be lost!
7. Enjoy!