This post was written as part of the Discover Australian Fantasy feature by author, editor and historian, Gillian Polack. Gillian's book, Ms Cellophane, was recently re-released as an e-book by Momentum Books.
When I run my eyes over my bookshelf and find fantasy books that use cities I know or know about, I find London and Paris and New York appear more than any other place. Yet Ruth Park set her tales in Sydney, and Park's Playing Beatie Bow is both terrifying and evocative. I can't walk through the Rocks without seeing the story play out again and again and without hearing in my mind those children singing their rhyme. It was Park and it was Patricia Wrightson with I Own the Racecourse! who taught me, as a child, that Australian cities could create dreamworlds and harbour amazing happenings. Our culture emphasises the Outback, but the magic of the Outback is quite different, as is the magic of the small towns. Today, I want to talk about the Australian cities. Without Australian cities, I don't know if I would be writing fantasy novels, for the cities I live in light my creative fires.
Canberra comes first. It was never my first city, but it is (more than Sydney and more than Brisbane with its amazing river) the best place to set a fantasy novel. It has such a clean public image. Almost sterile. As if the giant water jet on the artificial lake in front of the hollowed-hill that is New Parliament House defines everything. Then you live here.
When I moved to Canberra, I discovered that it was a palimpsest city. Underneath the monumental civic buildings and the truly and mundanely awful suburban architecture, hidden in the folds of the hills are many alternate Canberras. There is a ghostly Canberra, for it's perhaps the most haunted city in the country. There is a mystical Canberra, for the winning design had magic drawn into its perfect lines and shaped around its hills. There is the Canberra of the pre-European inhabitants (which has never gone) and there is a strange place where the frost lies thick and the fog low in the winter, rising to create a perfect day. There is the city of government and the city of bushfires. There is the city where writers congregate and the city that the rest of Australia shuns. Any of these elements can create a story. I used the city of government and the mundane city for my recent book Ms Cellophane but I have a haunted city in my mind too, and the city of bushfire and fear, and other novels to write here. The palimpsest city creates almost a perfect storytelling environment.
Sydney already has been the setting for many fantasy tales. It's going to be the place for more, too. It's easy to write about Sydney. I often use it when I teach other writers how to create fantasy words using real places. I plan to visit in a few weeks and am thinking of spending a day on ferries, taking pictures of the Harbour, the rocks, the amazing houses, as tools for teaching and as tools for writing. There are so many stories to be told set on that Harbour. Felicity Pulman's Ghost Boy (I have a fondness for young adult novels, even though my writing isn't for that age group) uses the old Quarantine Station and I've lost count of the tales that use Taronga Zoo. Margo Lanagan's amazing tales often have Sydney lurking darkly beneath them.
Sydney's past is its not-so-well hidden secret. The beauty of the location contrasts with its history and the stories (baby murderers, jilted brides and more) can be evil, but there are so many stories of the fantastic in them. When I wanted to reinvent a lost tradition of Jewish magic, Sydney was the obvious place for it has sheltered Jews since the First Fleet. It has the best graveyard statue I have seen anywhere. It has…so much. Every couple of years friends and I wander through Newtown or around Haberfield and I hear more stories and I wonder why haven't these odd lanes and half-forgotten shops created the stories that haunt London. They're beginning to, and they will. For the stories hang thick in the atmosphere, just waiting for someone to breathe them in and to write. Or maybe just waiting for us to discover the poems and stories that have already been written. One of my guides to Sydney is Kyla Ward. She breathes that air and already writes those tales, but she also shares the history generously with other writers. And she's not the only one.
And lastly (not lastly, just lastly in this blog post, for I took a tumble in my Canberra lounge room and dislocated a finger, so I have to stop soon) there is Melbourne. Melbourne is one of those cities that lives under the skin and in the heart of anyone who was brought up there. I was not only brought up in Melbourne, but in iconic Melbourne. This means that Melbourne appears in a lot of my work. In my first novel, Illuminations, it's the hometown of the errant heroine and in the science fiction novel I'm writing right now it's the place where the time travellers are sent backwards from. For me, it's the city where everything begins and to which everything always returns.
It's a lot more than that, however. Its phases of development remind me historically of the stages that Little Rock has gone through. Little Rock is a small city, however, and somehow, twice in its short life, Melbourne has been named one of the best and most prosperous cities in the world. It has the architecture to prove it and the quiet streets and good food that carries it through its periods of splendour. Melbourne manages suburbanimity* better than Sydney, somehow, just as Sydney manages to live with natural beauty better than Melbourne.
If Kyla Ward is my guide to the possibilities in Sydney, then three writers lead me through Melbourne and into its fascinating stories. Four, if I count myself (and the five generations of my family giving me my history): Lucy Sussex and Keri Arthur and Narrelle Harris. Lucy writes about my Melbourne. It's older and more sedate and its horrors and its magic can be subtle. My favourite starting point is a book of her short stories, aptly entitled A Tour Guide in Utopia. She understands the scholarlyMelbourne and the somewhat leftish intellectual Melbourne and the tawdry dignity that was Marvellous Smellbourne in the late nineteenth century. Narelle and Keri understand the Melbourne of now. They write them into paranormal thrillers and mysteries. Narelle's are cosier and more suburban and Keri's are sharper and less safe. Not that any of these three writers are safe, but they write the fantastic dangerously each in their own way. Melbourne feeds into their fiction and their fiction changes the way I see my home town. This is the perfect relationship between fantasy and a city.
No two Australian cities are anything like each other. They all inspire quite different works of art. If they look the same or of the writing makes them look similar, then you're reading the wrong writers or maybe you need new glasses. Or maybe you're listening to the public fiction about Australian cities. We like to claim that they're ordinary and that they can't bring magic to life: Australians say things like this, but it doesn't make what we say at all correct. These are the three Australian cities I've lived in: Canberra and Sydney and Melbourne. I want to live in Adelaide and Perth and Brisbane and Townsville and Darwin and Albury and a dozen other places, for I'm certain they have stories, too. Every city in this country is distinctive and each has its own voice. That voice informs fantasy stories and science fiction that could be set nowhere else.
*It wasn't a word, but it matched Melbourne better than the words the dictionary recommended, so now it is one.
About the Author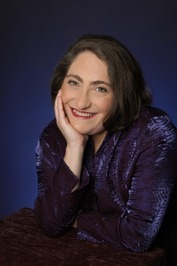 Gillian Polack is based in Canberra. She is mainly a writer, editor, educator and historian.
Her most recent print publications are a not-quite-cookbook, a novel, an anthology and a slew of articles. Her newest anthology is Baggage, published by Eneit Press (2010).
One of her short stories won a Victorian Ministry of the Arts award a long time ago, and three have (more recently) been listed as recommended reading in international lists of world's best fantasy and science fiction short stories. She received a Macquarie Bank Fellowship and a Blue Mountains Fellowship to work on novels at Varuna, an Australian writers' residence in the Blue Mountains.
Gillian has a doctorate in Medieval history from the University of Sydney and is currently completing a Creative Arts one at the University of Western Australia. She researches food history and also the Middle Ages, pulls the writing of others to pieces, is fascinated by almost everything, cooks and etc. Currently she explains 'etc' as including Arthuriana, emotional cruelty to ants, and learning how not to be ill. She is the proud owner of some very pretty fans, a disarticulated skull named Perceval, and 6,000+ books.