This review is part of the Discover Australian Fantasy feature, running all July on The Oaken Bookcase. Please visit the Aussie Fantasy page to see the other reviews and articles and also to enter the giveaway (which includes a copy of this book)!
Louise Cusack very kindly answered a few interview questions for me – you can find them further down in this post. But first, my review.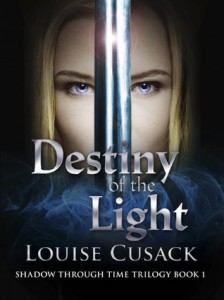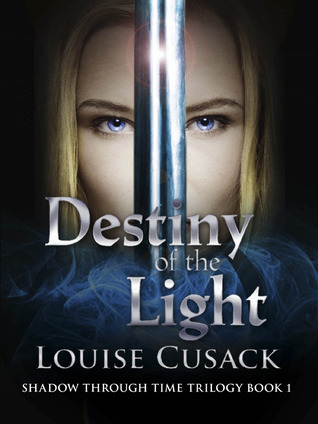 Title: Destiny of the Light (Goodreads)
Author:

 Louise Cusack (@Louise_Cusack)
Rating:





Ennae is a parallel world joined to our own world by the Sacred Pool, a portal that can only be opened by one with the Guardian blood running through their veins. It is through this watery gateway that Khatrene leaves her modern-day life behind forever, drawn into a quest that will take her into the depths of the unknown. Khatrene must fulfil her destiny as The Light, the woman whose child will unite the four elemental worlds. 
At each turn are real and imagined enemies who will do everything in their power to prevent her from fulfilling the prophecy, including the ethereal and erotic shadow woman, the enigmatic tattooed man, even her beloved brother Mihale. Talis, her appointed Guardian, must help her through the dangerous terrain of Ennae, sacrificing everything to ensure her safety in a land where magic prevails and nothing is as it seems.
Details
Series: Shadow Through Time #1 of 3
Genre: Fantasy/Romance
Published: Momentum, February 2012 (First published Simon & Schuster, 2001)
My copy: E-book copy won from Momentum in a giveaway, thanks!
Paper copies: Amazon.com
E-copies: Amazon.com • Amazon.co.uk • Momentum Books
Review
Ennae is a world poised for catastrophe – the northmen gather for war, the people of the plains have all but been wiped out by royal decree and the rest of the inhabitants wait for the coming of The Light – a prophecy foretelling the reunion of the four worlds and salvation from the creature of the Fire Realm. When Catherine (or Khatrene) falls into Ennae she unwittingly drops right into the centre of this coming storm and must make sense of this new world and its inhabitants.
I loved everything about Destiny of the Light. The sepia world of Ennae didn't seem like a very beautiful world to imagine, yet its inhabitants were amazingly detailed and diverse. Louise Cusack has told this story in a beautiful and compelling way – it had me hooked from the opening chapters and wouldn't let me put my kindle down!
The scale of the political intrigue and interwoven stories in this book reminded me a little of A Game of Thrones – there are plenty of characters to keep track of and it's never clear who is allied with whom. The point of view shifts around throughout the story so we do get an idea of the motivations of most of the characters. This was the only slight downside I found with Destiny of the Light – I'm not such a fan of constant POV-switching.
The main characters were brilliant and very easy to relate to – especially the leading ladies, Khatrene and Lae. I thought Khatrene was at times a little too trusting, especially since she'd just come from our modern world and had no memories of Ennae. I expected her to freak out a little more, especially after reuniting with her brother. The character of Lae was gorgeous – I loved her mischievous banter with Pagan.
The leading men are also really well-written – Talis was almost painfully honourable and I wished he would stop blaming himself for everything. The romance between him and Khatrene is delicious. Pagan is another gorgeous character and I'm sure plenty of readers love his roguish attitude. The Dark is one scary dude, and that's all I'll say about him.
The pacing is just right – I was drawn onwards after the end of each chapter and the story builds up towards an apocalyptic climax which makes me really want to pick up the next in the series, Daughter of the Dark, right away.
If you love your fantasy to be slightly gritty but with plenty of swoony romance, Destiny of the Light is for you!
Warnings: Sex scenes, torture and violence.
Shadow Through Time Series
About the Author and Interview

Louise Cusack is an Australian award winning author whose best-selling "Shadow through Time" fantasy trilogy with Simon & Schuster was selected by the Doubleday Book Club as their 'Editors Choice'.
As well as writing novels, Louise has been a Writer in Residence at the Queensland Writers Centre and has tutored hundreds of writing workshops at the QWC, the NSW Writers Centre, and libraries and schools in Brisbane and regional Queensland.
In 2006 she presented the Queensland Government's Queensland Writing Showcase to top  New York speculative fiction agents and publishers at the very swanky 21 Club!
Louise is currently writing two fantasy novels while on leave from a Research Masters in Speculative Fiction at QUT.  She ran away from home to a gorgeous seaside village at the southern tip of the Great Barrier reef where she eats delicious local produce (the strawberries are divine!), listens to the ocean and writes up a storm.  Literally!
Louise Cusack very kindly answered a few questions for me and I'm delighted to include the answers here!
Q: Can you share with us what you're currently working on? (if it's a secret then that's okay!) 
A: I've just handed in the first novel of a YA fantasy series that has a world based on Florence during the time of the Italian Renaissance. A young Australian Engineering graduate is pulled into this world and falls in love with an ambassador who is about to be given to the Medici prince in an arranged marriage.  She must marry the prince or her people will starve, and the prince must marry her if he's to have any hope of overthrowing his ruthless father.  It's a book about what happens when love and duty conflict, and I adored the setting.  I had a trip to Rome and Florence two years ago to research it and many of the tiny details of those cities have turned up in the fantasy world of Stella Mondo.
Q: What does your writing workspace look like?
A: I have a desk that overlooks the beautiful Coral Sea near the southern tip of the Great Barrier Reef.  It's very inspiring. Around my computer is a delightful muddle that suits me perfectly. Greeting cards I don't want to toss out and am using as a coaster for my coffee (I drink lots of coffee), hand cream to rub in while I'm gazing out the window thinking, ten different pens, notepads, my camera, my phone, my personal diary and also a calendar of the upcoming month's activities.  My printer is also on this desk and it's usually spilling out things I've printed and not filed yet!
Q: Do you have any advice for aspiring writers of Fantasy?
A: Write a lot.  Every day.  And write what your imagination dictates, not what you think will sell.  My best work has come from writing 'seat of the pants' having no clue what was coming next.  It's an exhilarating way to write and it takes faith.  Trust in your own unique 'voice' and let it seep into your work, influencing the type of characters you write about, the conflicts they find themselves in, the settings they traverse, the emotions they experience.  Every writer has a different story to tell, and you need to be true to your own.  None of us know which of our stories will resonate with a multitude and become mega-bestsellers. All we can do is write what we love and hope others will too.
Don't forget to enter the Aussie Fantasy Giveaway for a chance to win a copy of Destiny of the Light!