This guest post was written by the awesome Steph, as part of the Discover Australian Fantasy feature, running all July on The Oaken Bookcase. Please visit the Aussie Fantasy page to see the other reviews and articles and also to enter the giveaway!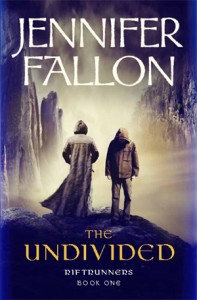 Title: The Undivided (Goodreads)
Author:

 Jennifer Fallon (@JenniferFallon)
Rating:





The Undivided are divided. The psychic twins, Ronan and Darragh, have been separated by the traitor Druid, Amergin, who has kidnapped Ronan and thrown him through a rift into another reality. Now time is running out for Darragh. If Ronan isn't found soon, they will both die. But his twin brother is lost in a reality where Druids are legend, and there is no magic. Somehow, before the Autumn Equinox, they must find one young man in a world of six billion people…
Meanwhile, Ren Kavanagh has no notion of where he comes from. He is plagued by strange injuries that appear from nowhere and everyone is convinced he is deliberately harming himself for attention. Then he meets the enticing and mysterious Trasa, and before he can figure out how it happened, he is in serious trouble – arrested for arson and possibly murder.
Rescue will come from a completely unexpected direction. Ren is about to discover more about his origins than he bargained for, meet the twin brother he never knew he had, and discover nobody is what they seem, especially his new friend, the half-faerie, half-human Trasa… Amergin's daughter.
Details
Series: Rift Runners #1 of 3
Genre: Fantasy
Published: Harper Voyager, 1 April 2011
Paper copies: Booktopia, Kinokuniya, Abebooks.com
E-copies: Amazon.com, Borders.com.au, Kobo
Review
"It shouldn't be this easy to kill someone"… Even the first line of The Undivided draws you in, wondering why is it so easy, and who are you assassinating?
Once I began reading I found it very hard to put down. Fallon follows her usual style of throwing the reader in the deep end right from the beginning, gradually providing just the right bit of information when you need it.
Fallon brings her world to life beautifully, cleverly combining the genres of dimension hopping and historical fantasy to make a believable and complicated realm of possibilities.
Gradually shifting from their comfort zones, the characters cross paths in two dimensions – the 'magic filled Ireland' and a world very similar to our own.  The dialogue and finer details, such as when each character experiences things for the first time, are very well done. Little things like 'puddle phone' instead of 'scrying bowl' cracked me up. A few developments are a little convenient, but that's forgivable when much of the characters' reactions are realistic and thought out.
I found the book had an overall feeling of displacement or 'needing to belong'. Even from the beginning of the story, each character is seeking change.  I also got the impression that this first book in the trilogy is just introducing the characters to their potential. I'm looking forward to seeing them developing their skills and relationships in the following books.
The Undivided takes you on fast-paced journey, jumping between alternate realities and a strong cast of characters finding their world changing around them and trying to keep one step ahead. I can't wait to get started on the next book to see what complicated situations the twins can get themselves into, the imaginative worlds they'll explore and the resourceful ways they'll get out of them.
– Steph
Rift Runners series
The Undivided (2011)
The Dark Divide (April 2012)
About the author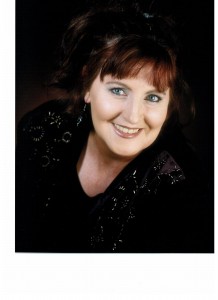 Jennifer Fallon grew up in Melbourne and then Canberra as one of 13 children. She has had a range of jobs, but focused on her writing career after her late husband suggested that she 'quit writing and be a better housewife, because you're never going to get published'.
Her first series, 'The Demon Child Trilogy', was shortlisted for the 2000 Aurealis Awards as the best Fantasy of 2000. She has since written a number of successful fantasy series and standalone works and has been shortlisted for another Aurealis, the David Gemmell Legend of Fantasy award and the Romantic Times Best Fantasy award.
Jennifer has two daughters, a son and has cared for over 50 foster children. After spending many years in the Northern Territory, she now lives in New Zealand where she is setting up the Reynox International Writers Centre.
Learn more about Jennifer at her website, www.jenniferfallon.com.au.