This post is part of the Discover Australian Fantasy feature, running all July on The Oaken Bookcase. Please visit the Aussie Fantasy page to see the other reviews and articles and also to enter the giveaway – you could win a copy of Obernewtyn, also by Isobelle Carmody!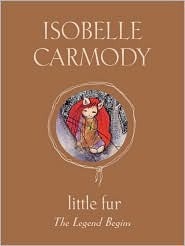 Title: Little Fur: The Legend Begins (Goodreads)
Author: 

 Isobelle Carmody (@firecatz)
Rating:





Who is Little Fur? Why, she's a half elf, half troll, as tall as a three-year-old human child, with slanted green eyes, wild red hair that brambles about her pointed ears, and bare, broad, four-toed feet. Little Fur loves and tends to the Old Ones, the seven ancient trees that protect her home, a small, magical wilderness nestled magically in a park in the midst of a large, bustling human city.
When she learns that evil forces are out to destroy her beloved trees, the intrepid halfling must embark on an ambitious and dangerous journey into the human world and down into an ancient cut in the earth, in search of a way to save not only the Old Ones, but the Earth Spirit itself.
Details
Series: Little Fur #1 of 4
Genre: Children's Fantasy
Published: Viking (Penguin), 2005
Pages: 195
Paper copies: Amazon.com • Amazon.co.uk • Book Depository
E-copies: Barnes & Noble
Audiobook copy: Audible (Amazon.com) • Audible (Amazon.co.uk)
Review
Little Fur lives in a small patch of wilderness, surrounded by places where humans live. She tends to injured animals and helps the Old Ones keep the Earth Magic flowing. One day she hears about a terrible threat from humans to trees near her home, and she leaves on a quest to seek wisdom of how to stop these humans from destroying the trees.
As much as I may identify as an Isobelle Carmody fan, I'll admit I had never heard of the Little Fur series until fairly recently, when I found them by accident while browsing the junior fiction shelves at the library. I was reminded again when I met Isobelle recently at a different library, when she talked about the creation of Little Fur with her daughter and the play with animal puppets. As I was reading the story, the character of Crow had Isobelle's Crow-puppet voice for me after that!
This story is delightfully told, creating a sense of wonder about our everyday human world. It encourages us to care for our green spaces and respect the animals who live there. The style is simple enough for older children to read to themselves, and there are cute little illustrations by Isobelle herself throughout the book.
Even so, there are some fairly dark themes within the story and some scary moments. I'd suggest this book to be read aloud to children or at least encourage them to talk about what they've read.
'Why do humans make black roads?' she murmured.

'To summon road beasts,' Sly said, looking back over her shoulder. 'They keep them as pets. I myself have seen humans bathing their shells with water.'

'The giant road beast that roared past us was a human pet?' Little Fur could not believe it.

'Perhaps not that one,' Sly admitted. 'No doubt there are road beasts that will not be tamed, just as there are cats who will not be tamed.' (Little Fur, Page 40)
This is the kind of book I would have loved to have read as a kid, but then, I loved FernGully and all the other eco-aware TV and film of the 90s. I disagree with some reviewers on Goodreads who say this book has too much of a "green" message – I think the story itself stands as brilliant fantasy for young readers, if a little dark for the very young.
If you and your children love stories with magic, talking creatures and important quests with non-stop adventure, make sure to read about Little Fur and her friends.
Little Fur series
About the Author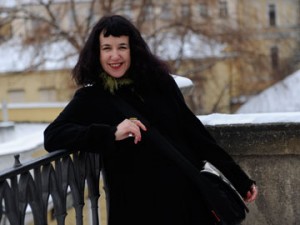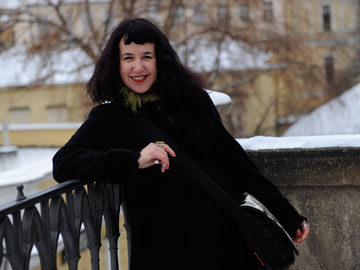 Isobelle Carmody began the first novel of her highly acclaimed Obernewtyn Chronicles while she was still in high school. The series has established her at the forefront of fantasy writing in Australia.
In addition to her young-adult novels, such as the Obernewtyn Chronicles and Alyzon Whitestarr, Isobelle's published works include several middle-grade fantasies. Her still-unfinished Gateway Trilogy has been favorably compared to The Wizard of Oz and the Chronicles of Narnia.
She currently divides her time between her home on the Great Ocean Road in Australia and her travels abroad with her partner and daughter.