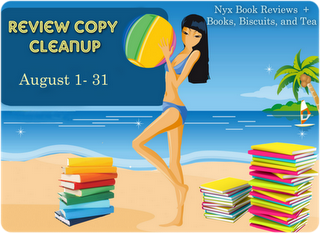 Welcome to August! I'm excited to be taking part in the Review Copy Cleanup this month, since I'm really behind after July! The RCC was created and is hosted by Vicky of Books, Biscuits and Tea and Celine from Nyx Book Reviews.
I thought I'd better write a reading list for the month. My review mountain is made up of a few print books, ebooks from Netgalley and Edelweiss, plus a few I received from their Authors. There's a very good chance I won't get to all of them this month, but if I list them all I'll have a better chance of it. Maybe.
Read: 8 of 22
Netgalley
Edelweiss
Library
From Author
Good lord, that's 22 books. I'd better get into it.