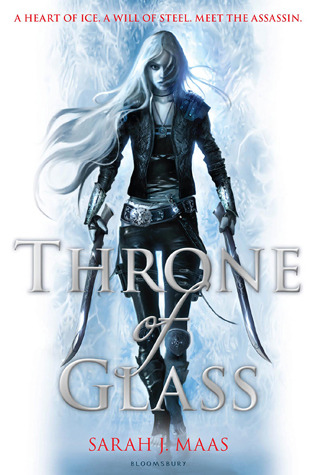 Title: Throne of Glass (Goodreads)
Author: 

Sarah J Maas (@sjmaas)
Rating:





In the dark, filthy salt mines of Endovier, an eighteen-year-old girl is serving a life sentence. She is a trained assassin, the best of her kind, but she made a fatal mistake: she got caught.
Young Captain Westfall offers her a deal: her freedom in return for one huge sacrifice. Celaena must represent the prince in a to-the-death tournament—fighting the most gifted thieves and assassins in the land. Live or die, Celaena will be free. Win or lose, she is about to discover her true destiny. But will her assassin's heart be melted?
Details
Series: Throne of Glass #1 of ? (there are also four prequel novellas)
Genre: YA Fantasy
Published: Bloomsbury, August 2, 2012 (August 7 in the USA)
Pages (paperback): 404
My copy: From Netgalley, and from a Bloomsbury ANZ giveaway, thanks!
Paper copies: Amazon.com • Amazon.co.uk • Book Depository • Booktopia
E-copies: Amazon.com • Amazon.co.uk • Barnes & Noble

Review
Celaena Sardothien, or Adarlan's Assassin as she's infamously known, is offered a deal – take part in a competition against other thieves and brutes for the position of King's Champion. If she wins, she'll be granted her freedom from the Salt Mines where she has been enslaved for the past year.
Chaol Westfall, the Captain of the Guard, takes her for training on behalf of her sponsor, the Crown Prince Dorian. As the competition begins to heat up, one by one, the champions are discovered horribly murdered by a vicious beast in the deserted corridors of the castle.
Where to begin? I loved reading this book. I didn't want it to end – I was completely caught up in the story and hated having to put the book down! It was partially the romantic aspects of the story that were keeping me reading, but also the exuberance with which Celaena jumps into any challenge coming in her direction – and the the challenges do come, thick and fast.
Throne of Glass is certainly not the "Game of Thrones for YA readers" that I had heard about – it's a light and enjoyable read, despite its 400-odd pages. Early on while the competition was getting under way, it seemed almost like a fantasy Big-Brother-style elimination with one competitor leaving after each test, but the story didn't deal very much at all with the actual competition. The relationships between the competitors, the strange magic symbols appearing around the castle, the mysterious murders of the champions and the court intrigue with the King, Duke Perrington and the Lady Kaltain provided most of the suspense.
The story is supposedly based on Cinderella, but apart from the part when they all go to the ball, I must admit I don't see any similarities. If anyone can enlighten me here, please do!
Celaena is completely adorable. At first she comes across as quite arrogant and selfish (actually that feeling never really goes away), but as the story progresses she shows much more of her vulnerable, girlish side hidden under the prickly exterior.
As with so many young adult books, there is a love triangle of sorts. In this case, it was quite delicious and I enjoyed the swoony romantic scenes, even if they were a little shallow and eyeroll-worthy at times. I know this is aimed at a younger audience and all, but I didn't feel the story would have been hurt by perhaps Celaena actually spending a night with the Prince. They are adults, after all! What is it with all these lovely honourable men in books these days?
Throne of Glass is a brilliant debut and I am dying to read the next in the series already to find out where Celaena's adventures take her next! Get your copy as soon as you can. There's a handsome prince. And puppies. Did I mention the kick-arse heroine?
If you'd like to read one of the prequel novellas for free, Sugarscape still has The Assassin and the Empire up for a limited time! The other three novellas are available on Amazon but sadly, not in Australia 🙁
Warnings: Quite a bit of violence.
What did others think of Throne of Glass?
"So much creativity, imagination and love has gone into this novel. That is crystal clear." – Hannah of Once Upon a Time
"This was a wonderful fantasy story. I enjoyed it immensely and Celaena is a fantastic heroine and role model for a Young Adult crowd." – 5/5 – Philippa of Tea, Daydreams & Fairytales
"While the synopsis may come off feeling a little Hunger Game-esque, let me calm your fears now. It's not. " – 3/5 – Stephanie of Cuddlebuggery