Welcome to The Oaken Bookcase's stop on the Traitor Blog Tour! Today I'm pleased to share with you an excerpt from Traitor, the second book in the Bridger series. 
Excerpt
The snarls of the Changelings filled the air, along with the acrid scent of their black magic. Electricity sizzled and made my hair stand on end from the amount of magic in the surrounding area. I wrestled the Changeling on top of me to the ground and pinned him. It struggled against my weight and it took every ounce of my strength to keep the faery down. We tumbled to the side and the Changeling scrabbled to get away, then clawed at me with its talon-like nails until I pinned it again. Just when I thought the Changeling might get the better of me, Aiden's fist came down on the faery's chest and it exploded beneath me. When Aiden pulled away, I saw something glinting in his hand.
He had iron.
Aiden seemed to know how to fight them off well. He grabbed another one by the arm, swung it wildly and launched it into the chest of another. Both of them exploded into dust, their expressions full of shock. Aiden definitely could hold his own with these things.
---
Details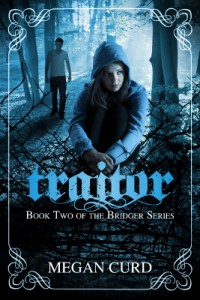 Title: Traitor (Goodreads)
Author: Megan Curd
Published: March 2012
Genre: Young adult Fantasy
Paper copies: Amazon.com • Amazon.co.uk • Book Depository
E-copies: Amazon.com • Amazon.co.uk
Ashlyn never believed in fairy tales until she was in one. 
They say ignorance is bliss, but not when you're on a centuries old hit list…and there's a traitor in your midst. 
Ashlyn must decide what's most important: trusting the allies she has, or siding with those she thought were enemies. Ashlyn knows old friends can turn on her, and unlikely allies may be the best chance she has to piece her family back together. No matter what her choice, she could lose someone she loves. 
And when you don't know who to trust, believe one thing: You can never trust a faerie. 
Giveaway
This is a tour-wide giveaway, hosted by AToMR Book Tours. Good luck!
a Rafflecopter giveaway

The Tour
For more excerpts, reviews and guest posts, check out the other stops on the blog tour!