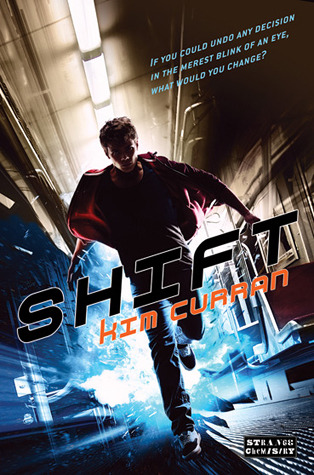 Title: Shift (Goodreads)
Author: 

 Kim Curran (@KimeCurran)
Rating:





When your average, 16-year old loser, Scott Tyler, meets the beautiful and mysterious Aubrey Jones, he learns he's not so average after all. He's a 'Shifter'. And that means he has the power to undo any decision he's ever made. At first, he thinks the power to shift is pretty cool. But as his world starts to unravel around him he realises that each time he uses his power, it has consequences; terrible unforeseen consequences. Shifting is going to get him killed. In a world where everything can change with a thought, Scott has to decide where he stands.
Details
Series: Stand Alone (for now?)
Genre: YA Paranormal Thriller
Published: Strange Chemistry, September 4, 2012
Pages: 416
My copy: The publisher via Netgalley
Paper copies: Amazon.com • Amazon.co.uk • Book Depository
E-copies: Amazon.com • Amazon.co.uk • Barnes & Noble

Review
Scott is busily going about his teenage life with his dysfunctional family, when he accidentally Shifts for the first time. The rather abrupt but very mysterious Aubrey Jones drags him away from a confrontation with the government organisation in charge of regulating Shifters, ARES. Scott soon finds himself deep in a strange new world, where every choice could have dramatic consequences.
Shift is one of two titles debuting not just for their authors, but for the Strange Chemistry imprint. Kim Curran has a engaging writing style, writing with a very British voice. Much of the character interaction seems quite cartoonish, written a little tongue-in-cheek and I found it quite entertaining.
The premise of this story is fascinating – Shifters can undo their past decisions, changing their own reality to a different path. The ability to Shift fades out at about twenty (a phenomenon called "entropy"), so almost all of the Shifters are teenagers going through training to control their abilities at the ARES headquarters in East London. ARES itself aims to encourage Shifters to only shift to improve reality, to make only decisions that will make reality better.
There's also an underground movement working against ARES, the SLF. These teenagers are convinced that entropy is not certain and that ARES are manipulating Shifters for their own uses.
Unfortunately the whole Shifting phenomenon wasn't explained all that well – we only get glimpses here and there of the theories as Scott discovers them and I was left with questions at the end. Is entropy real? Why is it so hard to Shift some decisions while the Shifts made while fighting are quick and easy? What was with that strange power the machine gave to Scott at the end? There were a lot of things that weren't explained and it got a little baffling at times.
The character of Scott was the star of the show here, just keeping his sanity together as he discovered all the horrors of the Shifting world. The romance with Aubrey was gentle – any more would have been overpowering but I feel Kim Curran got it just right. There's also plenty of action and some pretty horrific scenes in this story.
On the whole, Shift was quite an exciting read and I'll look forward to the next instalment in this story, hopefully to find out some more about my unanswered questions.
Warnings: Horror themes.
What did others think of Shift?
"Shift is like a British, young adult version of The Butterfly Effect with just as chilling effects and served with a side order of humour. " – 4/5 – Ellie of Curiosity Killed the Bookworm
"The writing was good, clearly conveying Scott's attitude to things. I love how Kim doesn't shy away from graphic descriptions" – 4/5 – Nina of Death Books and Tea
"I just kept waiting for the moment where I would start to feel, well anything for the characters, but it never came. That being said, I do think Kim Curran is talented as the overall concept and writing style were impressive, enough so that I would be interested in checking out her future works as her imagination definitely isn't lacking." – 2/5 – A Book Obsession