Tour: Flight, Alyssa Rose Ivy – Excerpt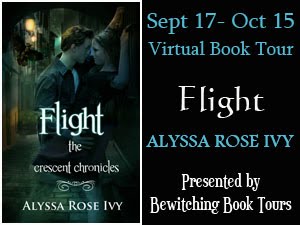 Welcome to The Oaken Bookcase's stop on the Flight Blog Tour! Today I'm pleased to share with you an excerpt from Flight, the first book in the Crescent Chronicles series. 
Excerpt
Closing my eyes, I tried to block it all out. Convinced I was about to die, I was only partly aware of his arms around me.
"You said you wanted an adventure," he said quietly, teasingly, as he tightened his hold.
My stomach dropped out as an intense and complete feeling of weightlessness engulfed me.
The wind stung my face as memories flooded my mind. I thought of my parents, of all the things I wanted to tell them but never did, my friends from home, and the experiences I longed for. Quickly my thoughts changed to more recent memories, to Levi.
"Open your eyes," he whispered, somehow knowing my eyes were clenched shut.
Against my better judgment, I listened. The scream died in my throat as we hurtled toward the water that had seemed so beautiful from the roof above.
---
Details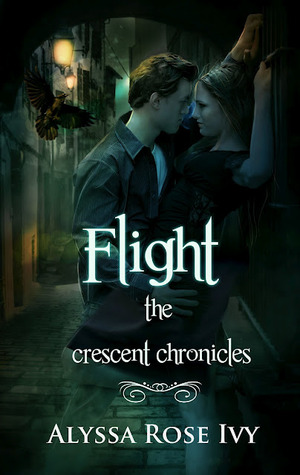 Title: Flight (Goodreads)
Author:

 Alyssa Rose Ivy (@alyssaroseivy)
Series: The Crescent Chronicles #1
Published: August 16, 2012
Genre: Young adult Paranormal Romance
Paper copies: Amazon.com • Amazon.co.uk
E-copies: Amazon.com • Amazon.co.uk • Barnes & Noble
Sometimes you just have to take flight.
A summer in New Orleans is exactly what Allie needs before starting college. Accepting her dad's invitation to work at his hotel offers an escape from her ex-boyfriend and the chance to spend the summer with her best friend. Meeting a guy is the last thing on her mind—until she sees Levi.
Unable to resist the infuriating yet alluring Levi, Allie finds herself at the center of a supernatural society and forced to decide between following the path she has always trusted or saving a city that might just save her.
---
The Tour
To enter to win a copy of Flight, and for more excerpts, reviews and guest posts, check out the other stops on the blog tour!