Welcome to The Oaken Bookcase's stop on the Rua book tour! You'll find my review below, but at the end of the post there is a tour-wide giveaway to enter for a chance to win a copy of the book.
---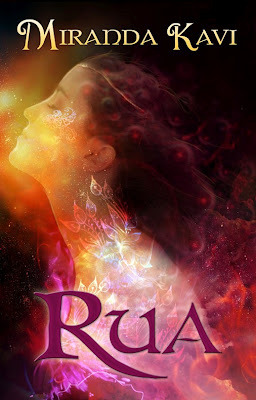 Title: Rua (Goodreads)
Author: 

 Miranda Kavi (@miranda00writes)
Rating:





A girl with an unknown destiny.
A boy from a hidden world.When Celeste starts at a new school in a small, Kansas town, she hears whispering voices, has vivid nightmares, and swarms of blackbirds follow her every move. She is oddly drawn to aloof Rylan, the other new student who has his own secrets. The exact moment she turns seventeen, she wakes to a bedroom full of strange creatures, purple light emanating from her hands, and Rylan breaking in through her bedroom window.
He knows what she is . . .
Details
Series: Stand Alone (for now?)
Genre: YA Paranormal Fantasy
Published: Self-published, September 2, 2012
Pages: 265
My copy: From BB Book Tours
Paper copies: Amazon.com • Amazon.co.uk
E-copies: Amazon.com • Amazon.co.uk 

Review
Celeste has always felt like an outsider – moved around by her loving adoptive parents to new towns and schools frequently. This latest move is different though – as she approaches her seventeenth birthday, Celeste begins having nightmares and hearing voices in the night, and why does the gorgeous boy Rylan keep staring at her like that?
On her birthday, it is finally revealed that Celeste is one of the Tuatha de Danaan, gatekeepers between the worlds and controllers of the Sidhe. Things only get more strange as she discovers more about who she is and what she is capable of.
Rua is quite different to other stories of the Fae that I've read. I think it was the American small-town setting rather than a Celtic-inspired fantasy world that felt so different. The characters were quite detailed and had realistic reactions to the supernatural events. I especially loved Celeste's new bestie, Tink. What's not to love about a gay witch with a big heart?
The supernatural elements were introduced fairly gradually which created some fantastic suspense throughout the story. The romance between Celeste and Rylan was very swoony but moved a little fast for me – I felt it was bordering on insta-love which is a bit of a shame considering how much I loved the rest of the story. We also never really find out the extent of Rylan's powers or hear much of his back story.
The only major problem I had with Rua was that it was too short! I really hope Miranda Kevi intends to expand more on this world – this promising debut has laid a great foundation for more tales of the Tuatha de Danaan and the other supernatural beings mentioned. I'd recommend Rua to anyone who enjoys YA paranormal romances, and I'll be looking out for Miranda Kavi's future work with great interest.
Warnings: Fairly squeaky clean, just a little scary.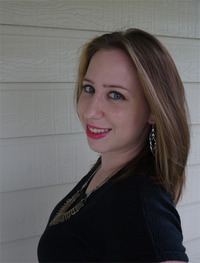 About the Author
Miranda Kavi is a YA and Urban Fantasy author. She has worked as an attorney, an executive recruiter, and an assistant in a biological anthropology lab. She loves scary movies, museums, and is hopelessly addicted to  chocolate. She lives in the Houston area with her husband and daughter.
Get in touch with Miranda via her website, Twitter, Facebook or Goodreads.
---
Giveaway
BB Book Tours has arranged a great giveaway for those in the US (sorry Internationals 🙁  )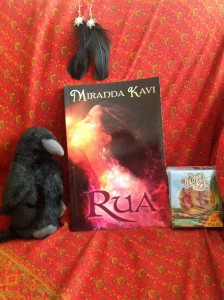 Details:
US only
Win a paperback copy of RUA
Also win a cute little stuffed blackbird (complete with an authentic crow call recorded when you squeeze it) and other swag!
Enter via the Rafflecopter below. Please note, I am not organising this giveaway – it is tour-wide.
Good luck!
a Rafflecopter giveaway