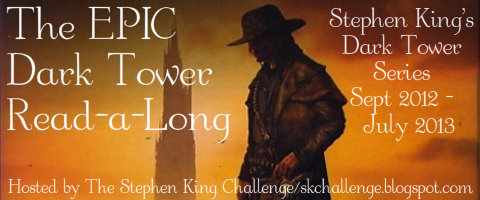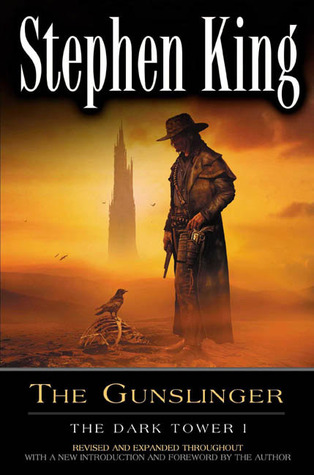 Title: The Gunslinger (The Dark Tower #1) (Goodreads)
Author: 

 Stephen King
Rating:





~ Blurb from Goodreads ~
In The Gunslinger King introduces his most enigmatic hero, Roland Deschain of Gilead, the Last Gunslinger. He is a haunting, solitary figure at first, on a mysterious quest through a desolate world that eerily mirrors our own. Pursuing the man in black, an evil being who can bring the dead back to life, Roland is a good man who seems to leave nothing but death in his wake.
Beginning with a short story appearing in The Magazine of Fantasy and Science Fiction in 1978, the publication of Stephen King's epic work of fantasy — what he considers to be a single long novel and his magnum opus — has spanned a quarter of a century.
Set in a world of extraordinary circumstances, filled with stunning visual imagery and unforgettable characters, The Dark Tower series is King's most visionary feat of storytelling, a magical mix of science fiction, fantasy, and horror that may well be his crowning achievement.
Details
Series: The Dark Tower #1 of 7
Genre: Sci-fi/Fantasy/Horror Novella
Published: Originally in The Magazine of Fantasy and Science Fiction 1978-82
Pages: 264

Paper copies: Amazon.com • Amazon.co.uk • Book Depository
E-copies: Amazon.com • Amazon.co.uk • Barnes & Noble
Review
Note: The Stephen King's The Dark Tower challenge is supposed to be a read-a-long, but I'm doing less of the "answer questions as you read" part and more just reading each book and posting my review each month. If you're interested in reading some discussion questions about each book, please check out the Dark Tower Challenge blog.
This first book in the epic Dark Tower series introduces us to "The Gunslinger", a mysterious cowboy-type character who is pursuing an unknown "Man in Black" across a barren desert. Through his encounters with the inhabitants of the desert and with Jake, the strange boy he meets later in the journey, he tells stories of the events of his past.
I'll admit, I was kind of lost for a while at the start. I haven't read any Stephen King for quite a long time, but I remembered enjoying his writing style before and I wasn't disappointed this time – he has an amazing style of storytelling that really draws you in and gives you a feeling for the setting. The characters are bleak and rather strange and the events of the story even stranger, but by the end of The Gunslinger I was starting to get a handle on what was happening (maybe).
The Gunslinger was originally published as a series of stories in a magazine – a fact that I didn't find out until after I'd finished reading it. Suddenly, the "sections" of the book make more sense!
There's plenty of graphic violence which isn't usually my cup of tea, especially when children are involved, but in this case it wasn't too overpowering. One thing that did annoy me slightly was that there was plenty of foreshadowing of what's to come – it kind of spoils a story for me when I know that something bad is coming. Stephen King is the master of the unexpected though, so you never know what might be around the corner!
There's a strange mix of the wild west that could be our world in a post-apocalyptic setting, complete with Christianity, Hey Jude and railroads, but there's also plenty of magic. I did quite enjoy Stephen King's storytelling style and this first instalment in a much longer journey has really whetted my appetite to read more of this series.
Warnings: Sexual scenes, coarse language, graphic violence.
The Dark Tower series
| | | | |
| --- | --- | --- | --- |
| | | | |
| | Wolves of the Calla | Song of Susannah | The Dark Tower |