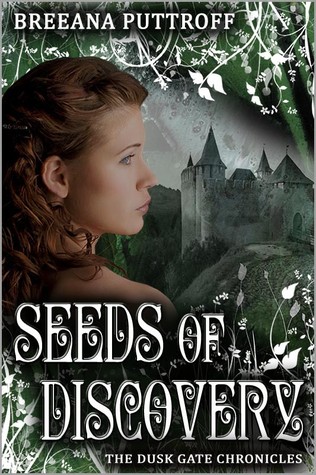 Title: Seeds of Discovery (Goodreads)
Author: 

 Breeanna Putroff (@BPuttroff)
Rating:





Quinn Robbins' life was everything she thought a teenager's should be. She has good friends, a family that she loves, good grades, and an after-school job she enjoys. And, she's just been asked out by Zander Cunningham, a popular football player and great guy. But one day when driving home after picking up her little sister from the baby-sitter's, she nearly hits a boy who, after running blindly into the street, mysteriously disappears.
The mystery only deepens as she figures out who the boy is; William Rose, a reclusive, awkward boy from school who always has his nose in a pile of books.
As she becomes more aware of his behavior it becomes more obvious how out of the ordinary William is and how hard he deliberately tries to blend into the background. This only intrigues her more and she finds herself working to find out more about him, and exactly where he keeps disappearing to.
Details
Series: The Dusk Gate Chronicles #1 of 3
Genre: Teen/YA Fantasy
Published: Musefish Press, September 2011
Pages: 288
My copy: From the author as part of a blog tour.
Paper copies: Amazon.com • Amazon.co.uk
E-copies: Amazon.com • Amazon.co.uk • Barnes & Noble
Review
Quinn is driving home after picking up her little sister from the babysitter when she nearly runs over a boy in the street, who then disappears. She later recognises him as William Rose, a shy, reclusive boy in the year above her at school. She starts following him around to see what he's up to, and (eventually) accidentally follows him through a gate to a whole other world and the Kingdom of Eirentheos. As it turns out, William is not only a Prince in this world, but also a gifted healer. William has been gathering medical research to try to discover the cause of a mysterious illness affecting children in the Kingdom. Quinn meets all the Royal family, then spends ten days with William and his family as they care for sick children before she can get back through the gate to her own world.
Firstly let me just say that I really enjoyed the style of this book. The writing is descriptive, the story is enjoyable to read, and it's well-structured for an Indie-published book. The story itself is imaginative and contains so many promising elements – the Royal children's gifts, the potential love interests, the fact that things keep being "inexplicably familiar" and comfortable to Quinn (which is a little annoying come to think of it).
Unfortunately, I felt this first instalment in the series really felt like a first part, rather than a first book. The plot was fairly light-on, with only a mysterious illness among the kingdom's children to get to the bottom of. Other than a hint of possible friction between the Kingdoms when Tolliver was around, everything was peachy and a journey of discovery for Quinn. The Royal family were almost painfully kind and friendly, welcoming Quinn into their family like she was actually a friend of William's rather than some girl who stalked him and then followed him through the gate. The characters are all  just a little too perfect for me at the moment. I hope that will change as the story progresses.
Over all I quite enjoyed reading Seeds of Discovery. It's quite a short and easy read and with its minimal conflict, adorable small children and pleasant descriptions of Eirentheos, it's a nice comforting read if you need one. Grab a cuppa, put your feet up and enjoy.
Warnings: One almost-abusive situation that may distress some readers.
Make sure you come back tomorrow for my review of the second book in the series, Roots of Insight!
The Dusk Gate Chronicles
What did others think of Seeds of Discovery?
"The book was very well written. I liked the world the author thought up. It's fantasy, but not a lot of high fantasy elements, like magic and other races and such, but just a parallel world kind of different from our own, but still a world that caught my imagination"  – 4/5 – Reading By Kindle Fire
"Filled with adventure, danger, mystery and a touch of romance this tale is sure to delight." – 3/5 – Kimba the Caffeinated Book Reviewer
"This book is a fun and quick read and when the reader is finished they will want more. They will want to know more about Quinn, more of her relationships with Zander, Thomas, and William.." – Jackie Anton Book Reviews