Welcome to The Oaken Bookcase's stop on the Roots of Insight blog tour! There's a giveaway and links to the other stops on the tour below my review.
---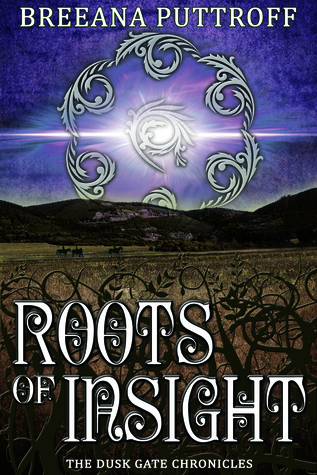 Title: Roots of Insight (Goodreads)
Author: 

 Breeanna Putroff (@BPuttroff)
Rating:





Quinn Robbins has just returned from spending ten days in Eirentheos, a world she had never known existed. Trying to settle back into her familiar life and establish a relationship with her new boyfriend, Zander, is more of a challenge than she ever dreamed it would be.
Things are just beginning to feel normal again when Thomas shows up in her world, and invites her back to Eirentheos for a royal wedding. She's excited at the chance to reconnect with the people and places she had begun to fall in love with.
What she doesn't realize is just how deeply connected with this new world she might become … and just what old secrets might be beginning to unravel.
Details
Series: The Dusk Gate Chronicles #2 of 3
Genre: Teen/YA Fantasy
Published: Musefish Press, January 2012
Pages: 306
My copy: From the author as part of a blog tour.
Paper copies: Amazon.com • Amazon.co.uk
E-copies: Amazon.com • Amazon.co.uk • Barnes & Noble
Review
Please Note: This is my review for book 2 in this series. I've tried to avoid spoilers for the events of book 1, Seeds of Discovery, but you might like to go and read my review for that book instead if you haven't read it already!
Quinn has just returned from her first trip to Eirentheos and things are starting to return to normal, more or less. The days pass with Quinn trying to concentrate on her school work and enjoy her new relationship with Zander, when Thomas shows up one Monday with William, inviting her to return to Eirentheos for their brother Simon's wedding.
All is not as perfect in the other world as it was before – trouble is stirring in the neighbouring kingdom of Philotheum and Thomas tells Quinn he's going to travel there to find his cousin Lily, who hasn't been heard from in weeks. But when he doesn't return, Quinn and William decide they must go to find him.
Roots of Insight is an exciting and quick read – if Seeds of Discovery was a little light plot-wise, Roots of Insight makes up for it. The story picks up from almost exactly where the first book finishes, and it takes a while to get back into action, but once it does it doesn't let up.
Quinn is more vulnerable in this part of the story – she has panic attacks throughout the story and William isn't always there to comfort her, but when they are together there is a lovely chemistry and slow-burning romance. He's such a gentleman – we get to see more of his mature personality as parts of the story are told from his point of view. Poor Zander gets a bit of a raw deal in this book – he has really fallen for Quinn but she treats him terribly.
A cliffhanger ending means I'll be trying to get my hands on the third book, Thorns of Decision, as soon as possible! There are still plenty of questions to be answered – there are continual hints that Quinn may be more than just a visitor to the other world, but nothing has been revealed just yet!
Roots of Insight is a more emotionally-charged and suspenseful read than the first book was, and I would certainly recommend it to those who enjoy teen fantasy.
Warnings: None, it's squeaky clean.
The Dusk Gate Chronicles
Giveaway
Enter to win a print copy of Roots of Insight using the Rafflecopter form below! I'm assuming at this stage that it is open internationally. Good luck!
Please note: This giveaway is being run by Lightning Book Promotions.
The Tour