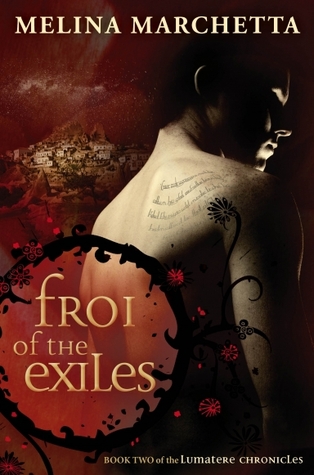 Title: Froi of the Exiles (Goodreads)
Author: 

 Melina Marchetta (@MMarchetta1)
Rating:





Three years after the curse on Lumatere was lifted, Froi has found his home… Or so he believes.
Fiercely loyal to the Queen and Finnikin, Froi has been trained roughly and lovingly by the Guard sworn to protect the royal family, and has learned to control his quick temper. But when he is sent on a secretive mission to the kingdom of Charyn, nothing could have prepared him for what he finds. Here he encounters a damaged people who are not who they seem, and must unravel both the dark bonds of kinship and the mysteries of a half-mad Princess.
And in this barren and mysterious place, he will discover that there is a song sleeping in his blood, and though Froi would rather not, the time has come to listen.
Details
Series: Lumatere Chronicles #2 of 3
Genre: YA Fantasy
Published: Viking Australia, October 2011
Pages: 593

Paper copies: Amazon.com • Amazon.co.uk • Book Depository • Booktopia.com.au
E-copies: Amazon.com • Barnes & Noble • Bookworld.com.au (epub)
Review
Please note: This is my review for the second book in this series, and although I have tried to avoid spoilers for the first, Finnikin of the Rock, you may prefer to go and read my review of that book instead!
Three years have passed since the curse of Lumatere was lifted, but all is not well in the Kingdom. Crops are not growing, and Charynite refugees have been settling in a valley just outside of the Mont borders. Queen Isaboe and her consort Finnikin receive intelligence that this possible threat from Charyn can be eradicated by removing the instigator of the trouble there – the King of Charyn.
Froi has begun to settle into and enjoy his life in Lumatere but soon he is sent into Charyn on a most important mission. What he finds in the Citavita, the capital of Charyn, is not at all what was expected.
I knew I was going to enjoy this book very soon after I started reading it – it felt like catching up with old friends. The characters in this series are the real stars of the show, even though the kingdoms of this world are amazingly described and built. I laughed, cried and winced along with each of the main players in this story, and was completely delighted with the descriptions of family life in Lumatere, while at the same time completely horrified by Quintana's situation in the Citavita. I thought that the brothers Gargarin and Arjuro were very tragic, but completely hilarious, even if their story got pretty confusing at times!
Although I felt Finnikin of the Rock was very serious and quite dark, Froi of the Exiles has a much lighter tone despite its often dark subject matter. After each major dark plot development there is usually a funny episode to lighten things again and this made reading this book utterly riveting. Despite its almost 600 pages I raced through it as often as I could get to it.
If you loved Finnikin of the Rock, then you're really going to enjoy reading Froi of the Exiles. I wouldn't hesitate to recommend this series to those who enjoy fantasy of any type. Haven't got yourself a copy yet? What are you waiting for?!
Warnings: Plenty of violence and sexual situations (some abusive).
The Lumatere Chronicles