Welcome to The Oaken Bookcase's stop on the huge Stitch Blog Tour! You can find links to more reviews and other goodies by clicking the banner above (after you've read my review, of course).
---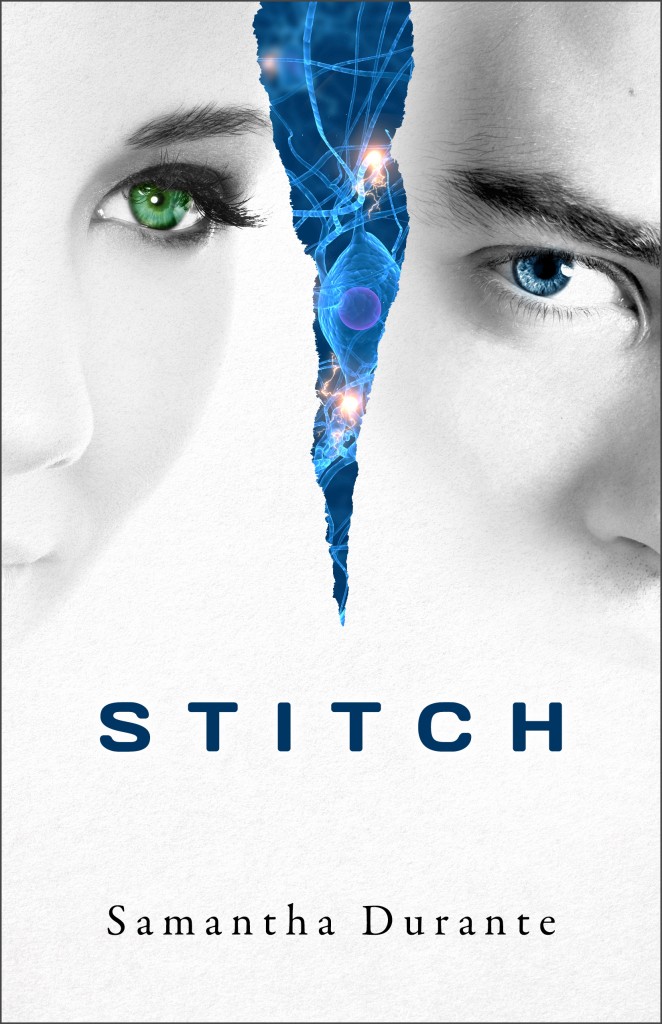 Title: Stitch (Goodreads)
Author: 

Samantha Durante 
Rating:





Still struggling to find her footing after the sudden death of her parents, the last thing college freshman Alessa has the strength to deal with is the inexplicable visceral pull drawing her to a handsome ghostly presence. In between grappling with exams and sorority soirees – and disturbing recurring dreams of being captive in a futuristic prison hell – Alessa is determined to unravel the mystery of the apparition who leaves her breathless. But the terrifying secret she uncovers will find her groping desperately through her nightmares for answers.
Because what Alessa hasn't figured out yet is that she's not really a student, the object of her obsession is no ghost, and her sneaking suspicions that something sinister is lurking behind the walls of her university's idyllic campus are only just scratching the surface…
Details
Series: Stitch Trilogy #1 of 3
Genre: YA Science fiction
Published: Indie, August 2012
Pages: 314
My copy: From the author as part of the blog tour, thanks!
Paper copies: Amazon.com • Amazon.co.uk 
E-copies: Amazon.com • Amazon.co.uk • Barnes & Noble • Smashwords
Review
Alessa has recently started at a new and unfamiliar college. Depressed and withdrawn after the accidental death of her parents, she starts seeing a ghost of a young man in her house. Drawn to the ghost by a strange attraction, she tries to discover who he might have been. Her world is turned upside down once more when she discovers what is really going on at her college, and that nothing in her world is as it seems.
This book was an odd one to read – here I was, settling into a slightly bland college ghost story, getting the feeling that the tension was gradually building to some unspecified event when half-way through the book, BAM. Complete plot twist and non-stop action until the end. I'm not sure what else to say without give anything away, but I will say that I completely did not see that coming, despite the clues.
The characters are quite likeable and even though we haven't seen a lot of Isaac yet, it sounds like his relationship with Alessa is going to be very sweet and profound in the next book. Alessa herself, along with the other female characters, seem very strong and capable.
The tension is built up so well once the truth is revealed that at some points I was holding my breath, waiting to see what would happen. It does get a little wordy – especially early on in the story. We could do with hearing less about college life and get into the Isaac-related action a little more quickly – I wonder if less patient readers might put the book down during the first half before the action gets going. That said, Stitch is a very well-written debut from Samantha Durante and I'll be looking forward to reading what happens to Alessa and Isaac in future stories.
If you like a little bit of paranormal romance or you're a fan of Dystopia, then make sure to add Stitch to your list!
Warnings: References to torture. That's about it, it's quite clean.