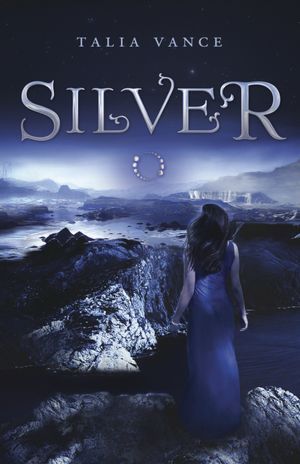 Title: Silver (Goodreads)
Author: 

 Talia Vance (@TaliaVance)
Rating:





Brianna has always felt invisible. People stare right past her, including the one boy she can't resist, Blake Williams.
But everything changes at a house party where Brianna's charm bracelet slips off and time stands still. In that one frozen, silver moment, Blake not only sees her, he recognizes something deep inside her she's been hiding even from herself. Discovering she is descended from Danu, the legendary Bandia of Celtic myth, Brianna finds herself questioning the truth of who she is. And when she accidentally binds her soul to Blake, their mutual attraction becomes undeniable. But Blake has his own secret, one that could prove deadly for them both.
Details
Series: Bandia #1
Genre: YA Paranormal Romance
Published: Flux, September 2012
Pages: 374
My copy: From the publisher via Netgalley
Paper copies: Amazon.com • Amazon.co.uk • Book Depository
E-copies: Barnes & Noble • Reader store (epub)
Review
Brianna is a Bandia – a descendant of the Celtic goddess Danu. Her grandmother gave her a special charm bracelet that was to protect her and keep her powers at bay until her seventeenth birthday, but when the bracelet is removed during a party at college, Brianna is revealed to the Sons of Killian – an order that exists to hunt down and kill the Bandia.
Silver ended up being a bit of an odd read for me. I was immersed in the story early on even through the college life parts which aren't usually my thing – there were just enough hints of something strange going on to intrigue me and keep me reading, and before long I had trouble putting it down. The premise and the mythology are fantastic, and even though the author has taken liberties with Irish folklore, it all weaved together in a magical way.
As I progressed with the story though, I realised that I really didn't like any of the characters in it. To start with, Brianna was kind of sulky and continually playing the victim. Rather than trying to find out what was actually going on, she blames everything on herself and clams up rather than asking questions. I realise this is actually a fairly realistic trait in people and to be fair, she does grow out of it a bit as the story goes on, but I found it a little frustrating.
Then there's Brianna's friends – two bitchy popular girls who get mad at Brianna for being noticed by a guy one of them is trying to hook up with. I had a hard time working out why they were all friends in the first place – they seem to fight and make up more times during the book than should be going on between sixteen/seventeen year olds.
Possibly the strangest characterisation in the story is Blake – a bad-boy and player whom Brianna has been stalking for a long time. When he finally notices her thanks to the removal of her protective charm, he comes on to her very strongly, but then gets extremely upset when she accidentally binds their souls together. Despite the strangeness of their relationship, their romantic scenes are quite sweet and occasionally steamy.
Character problems aside, I thought the action scenes and general story were very well-written and this is a solid debut from Talia Vance. This review may sound rather negative but I've given it four stars based on the story alone which really grabbed me. I'll be looking out for the next book in this series as I'd quite like to know what will become of Brianna and Blake.
This book is recommended to paranormal romance fans, but beware, the characters may be a bit bitchy for your liking.
Warnings: Plenty of steamy sex talk but nothing too graphic. Violence and cruelty to animals.
What did others think of Silver?
"I would recommend Silver to anyone who wants a rather unique read in the paranormal ya genre." – 4 stars – A Book Obsession
"Utterly captivating, deliciously dark and sexy, exciting and original, Talia Vance's Silver is a fast-paced and immensely entertaining read that will keep those pages turning." – 5 stars – Fiktshun
"You know the feeling when you're reading a book and you know that something doesn't fit and you dunno what. That feeling I had whilst reading this book. I couldn't feel any emotion and there was just bunch of words that made up a story." – 2.5 stars –  Ja čitam, a ti?