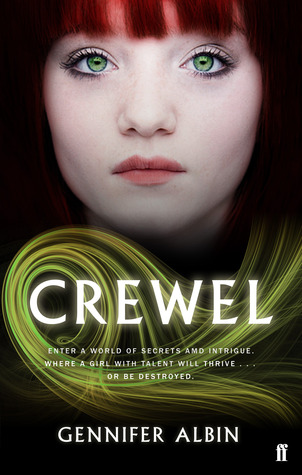 Title: Crewel (Goodreads)
Author: 

 Gennifer Albin (@genniferalbin)
Rating:





Gifted with the ability to weave time with matter, Adelice is exactly what the Guild is looking for, and in the world of Arras, being chosen as a Spinster is everything a girl could want. It means privilege, eternal beauty, and being something other than a secretary. It also means the power to embroider the very fabric of life. But if controlling what people eat, where they live and how many children they have is the price of having it all, Adelice isn't interested.
Not that her feelings matter, because she slipped and wove a moment at testing, and they're coming for her—tonight.
Details
Series: Crewel World #1
Genre: YA Dystopian Sci-fi
Published: Faber & Faber, October 2012
Pages: 360
My copy: From the publisher via Netgalley
Paper copies: Amazon.com • Amazon.co.uk • Book Depository
E-copies: Amazon.com • Amazon.co.uk • Barnes & Noble • Bookworld (epub)
You can read the first five chapters of Crewel for free on Nook!
Review
Adelice lives in Arras, a world woven into the fabric of time and space by the Spinsters. Being chosen as a Spinster would allow her a life of luxury and privilege that would never be within reach with her family in their neighbourhood, but when Adelice is identified as having the weaving ability during testing, her parents instead try to help her escape. The botched escape is a poor introduction for Adelice as she enters this new world and discovers its dark secrets.
I really enjoyed reading this exciting and occasionally heart-wrenching story. The world of Arras and the Spinsters is amazingly detailed and imaginative – in fact the details are often mind-boggling and leave more questions than the explanations provide!
Crewel gives us a glimpse into a world with control taken to the extreme, where every person is kept to their neighbourhoods with their family, girls and boys are kept segregated until marriagable age and men and women keep to their gender-specific jobs and roles. Those who don't conform or who show behavioural anomalies are taken away to have their thread "cleaned" – to basically be reprogrammed. We're never shown exactly who is actually in control, either – is it the Guild with their groups of Spinsters? Or the enigmatic Creweler who designs and weaves Arras into existence?
Adelice is brought into this world of intrigue – into the preening and pretend world of the Spinsters. She never really seems to accept it and fights against it at every opportunity, but while that is a very admirable quality in a heroine, in this case it is slightly puzzling. She knows that each time she steps out of line, someone close to her takes punishment for her, and yet she continues to do it. After a while I found her snarky nature a little annoying. Yes, there is a slightly unnecessary love triangle, but the romantic parts are very sweet and move the story along.
I do like the first book in a series to wrap up within itself rather than just end, but sadly, that's exactly what happens with Crewel. The confrontations at the end build up and build up, and then we're left hanging off the cliff with plenty of unanswered questions. I guess that's what sells the next book though, isn't it? It is a very well-written debut from Gennifer Albin though and I'll look forward to more of her work!
I'd recommend Crewel to fans of Dystopian sci-fi with a romantic twist. I just hope the next book is due soon because wow, this book sure does hang off the proverbial cliff.
Warnings: Sexual references, but quite clean.
What did others think of Crewel?
"It's engaging, falls on the thought-provoking side, and a touch magical." – 3.5 stars – Paranormal Indulgence
"Crewel is original and unique – keeping me on the edge of my seat." – 4 stars – Claire Reads
"Yes, it's another dystopian work in a very dystopian saturated YA market, but I love the blending of dystopic, fantasy and science fiction genres and I really love the weaving/ world creating aspect of the story too." – 4 stars – Flyleaf Review