Welcome to Cover Lover, where I share my favourite covers! Hannah  of Once Upon a Time is the inventor of this particular "meme", so head over there to see the covers she's already shared.
Firstly, please allow me to apologise for the quietness around here this week – I haven't had a lot of time for reading or writing but hopefully things will ramp up again around here soon. Thanks for sticking around!
This week's cover lover: One of my all-time favourites and recently reviewed: The Hobbit, J.R.R. Tolkien.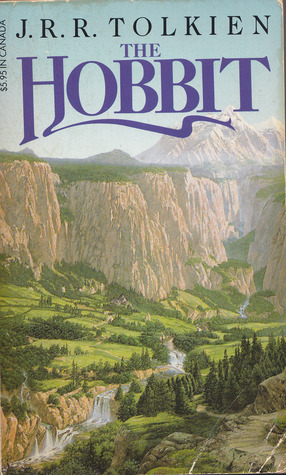 Title: The Hobbit (or, There and Back Again) (Goodreads)
Author: 

 J.R.R. Tolkien
Series: Stand alone
Published: First published by Allen & Unwin, 1937. My edition by Unwin paperbacks, 1981.
Goodreads Blurb:
Bilbo Baggins is a reasonably typical hobbit: fond of sleeping, eating, drinking, parties and presents. However, it is his destiny to travel to the dwarflands in the east, to help slay the dragon Smaug.
His quest takes him through enchanted forests, spiders' lairs, and under the Misty Mountains, where he comes across the vile Gollum, and tricks him out of his 'Precious' – a ring that makes its bearer invisible, and wields a terrible power of its own.
My thoughts:
I realise that I just re-read and reviewed The Hobbit last week, but I had to gush over this cover. Our paperback copy is actually one that Mr Ang has had for many many years, and I just love the beautiful artwork! Rather than the usual Hobbiton or dragon-related scenes on a lot of Hobbit books and merchandise, this cover gives more of a feeling of the first part of the journey through wild woodlands between Hobbiton and Rivendell, before the party even crosses under the Misty Mountains.
There have been some amazing artworks featured on The Hobbit covers over the years. Here's a selection (there's a lot more, if you can believe it). Which is your favourite?
NB: All cover images are from Goodreads.
| | | |
| --- | --- | --- |
| c1960 | Common present cover | 1981 paperback |
| 1997 paperback | De Hobbit (Dutch) | Der Kleine Hobbit (German) |
| El Hobbit (Spanish) | Hobbiten (Norwegian) | Hobbitul (Romanian) |
| Hobit (Slovak) | The BBC Radio Play Version | 2012 Film Tie-in |