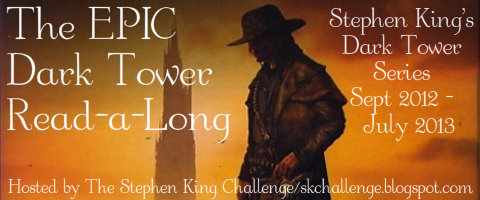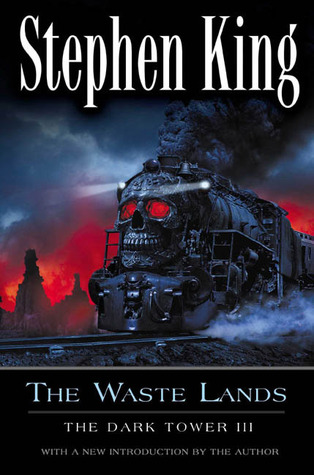 Title: The Waste Lands (Goodreads)
Author: 

 Stephen King
Rating:





~ Blurb from Goodreads ~
Roland, the Last Gunslinger, moves ever closer to the Dark Tower of his dreams and nightmares- as he crosses a desert of damnation in a macabre world that is a twisted mirror of our very own.
With him are those he has drawn to this world, street-smart Eddie Dean and courageous wheelchair-bound Susannah. Ahead of him are mind-rending revelations about who he is and what is driving him.
Details
Series: The Dark Tower #3 of 7
Genre: Sci-fi/Fantasy/Horror
Published: First published August 1991
Pages: 422

Paper copies: Amazon.com • Amazon.co.uk • Book Depository
E-copies: Amazon.com • Amazon.co.uk • Barnes & Noble
Review
Note: The Stephen King's The Dark Tower challenge is supposed to be a read-a-long, but I'm doing less of the "answer questions as you read" part and more just reading each book and posting my review each month. If you're interested in reading some discussion questions about each book, please check out the Dark Tower Challenge blog.
You can also check out my reviews for the first two books in The Dark Tower series, The Gunslinger and The Drawing of the Three. This review contains spoilers!
---
Roland, Eddie and Susannah (as Odetta is now called) are recovering from their time journeying along the beach in search of doors between the worlds. It's soon clear that Roland is slowly starting to lose his mind, as he hears voices and is no longer sure which of his memories is the truth. Meanwhile, in New York, eleven-year-old Jake is having a similar crisis as he's sure he should have died on his way to school. Roland and his companions must try to draw Jake into their world and continue on with their quest.
We find out a lot more about the Tower, about the group's Ka and their quest towards the end goal moves along at pace, taking them to an almost-ruined ancient city in search of an insane train.
The Waste Lands is packed with literary references, as well as elements of pop-culture from the 1960s-80s eras. I'm sure there were quite a few references I didn't pick up as well. The often odd references made the story enjoyable in some ways, but distracted from the Mid-world itself in other ways. The first part of the story is a little slow – I thought the entire sequence with Roland and Jake's dual memories went on for too long. The pace picks up a lot more in the second part of the book and I had a lot of trouble putting it down right to the end.
I found The Waste Lands much more enjoyable than the previous two books. For one thing, it's not quite so desperate and a lot more adventurous. I spent the entire time reading The Drawing of the Three biting my nails, waiting for the next horrible event to occur, but The Waste Lands was much more like a traditional fantasy tale with a fairly linear journey and plenty of character relationship development.
I loved the way the characters have developed, although I'm still not really sure what happened to Odetta and Detta at the end of the previous book. Susannah seems like a strange mixture of the two of them and we don't get to know the new her all that well. I did think Eddie was brilliant and I can't wait to see how he and Susannah develop both their relationship and their abilities as Gunslingers. I also loved having Jake back in the story and the introduction of Oy the billy-bumbler, even though I'm trying not to form too much attachment to any of them as I'm sure they could be killed off at a moment's notice!
As with the previous books in the series, I'd recommend it to fantasy fans who don't mind a bit of blood and guts and who enjoy terrifying chases and escapes. The series just keeps getting better with each instalment and I'm really looking forward to getting stuck into the fourth book, Wizard and Glass.
Warnings: Sexual scenes (some abusive), coarse language, graphic violence.
The Dark Tower series
| | | | |
| --- | --- | --- | --- |
| | | | |
| | Wolves of the Calla | Song of Susannah | The Dark Tower |