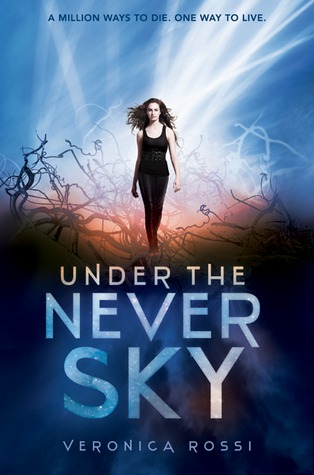 Title: Under the Never Sky (Goodreads)
Author: 

 Veronica Rossi (website) (twitter)
Rating:





Exiled from her safe home in the enclosed city of Reverie, Aria finds herself in the outer wastelands known as the Death Shop. If the cannibals don't get her, the violent energy storms will. There she meets a savage, an Outsider named Perry – wild, dangerous – who is her only chance of survival. 
But Perry needs Aria, too, and they are forced into an unlikely alliance that will determine the fate of all who live under the never sky.
Details
Series: Under the Never Sky #1 of 3
Genre: Young adult post-apocalyptic Sci-fi
Published: Pier 9 in Australia, HarperCollins in USA, January 2012.
Pages: 376
Paper copies: Amazon.com • Amazon.co.uk • Book Depository
E-copies: Amazon.com • Amazon.co.uk • Barnes & Noble • Bookworld (epub)
Review
I started reading Under the Never Sky expecting it to be just like the other YA sci-fi I've read recently and while it was to a certain extent, the story was told in a very engaging way and with such awesome characters that I enjoyed it immensely!
Aria lives in the protected environment called Reverie – a "pod" where parts of humanity have taken refuge after an apocalyptic event that left the world's surface devastated. Inhabitants are genetically altered to avoid disease and wear a Smart-Eye that allows them access to the Realms, a sort of virtual reality where they can hang out with their friends or live out any dream that they desire, with a thought. But Aria's mother has travelled to another pod city to continue her research and when the link to that pod drops, Aria is determined to find out what has happened there. Soon she finds herself mixed up with the wrong crowd and expelled from Reverie, left to fend for herself in the surface wastelands known as the Death Shop.
There, she meets Perry – an Outsider, savage to her eyes. Perry sees her as a weak Mole, but he keeps her alive as she is the only hope he has of helping his nephew. Perry is also a Scire – his sense of smell is heightened so that he can smell people's "temper", sensing their moods and intentions.
The Scires, Audiles and Seers make an interesting magic system – in the world outside the pods, human senses are magnified for some people. It also adds an extra dimension to the tribal society, because only some people develop these senses, and they must marry within their sense to preserve the bloodline.
Under the Never Sky starts with a bang – the first couple of chapters are quite dark but very gripping. The pace drops off a bit in the middle, but ramps up again to an explosive ending. I was a little disappointed with the last few chapters – they ended up a bit romantic and wishy-washy and the trip into Bliss felt rushed to me. Nevertheless, I was very keen to get stuck into the second book, Through the Ever Night (which incidentally was just released last week and I read during Bout of Books!).
I haven't given this book a full five stars, partly because of the ending, but there were a couple of other things that brought the story down a bit. Firstly, being in a future post-apocalyptic world, there are many strange and unfamiliar things in this world, and not just in Aria's pod city of Reverie. Usually, in time, these things would be explained and I'd have more of an idea of how things work in this world. Not so in Under the Never Sky. The idea of the Outsiders' heightened Senses was gradually explained so that was okay, but there are references to other tribes, to things in the pod society and especially everything relating to the Aether that were not explained. The Aether is particularly annoying because it's constantly referred to as being up there above the clouds and funnelling down to earth during storms to burn all in its path, but what is it actually? I'm assuming some kind of electro-magnetic storm that is surrounding the earth, but how did it get there? I really hope there will be more explanation in future books.
The characters in UtNS are brilliant. Perry and Aria are each very strong people and their interactions sizzle, at first with hostility, but as their friendship builds – wow! It did slightly bother me that Aria was able to take so quickly to hunting, fighting and trekking across the wilderness such a short time after coming from a life being sheltered and protected underground. Perry was just awesome – cold and distant at first but gradually warming up and showing his true colours. It's a brutal world they live in and Perry is obviously a product of that world.
The supporting cast is fantastic too – I loved Roar and was intrigued by Cinder. I was a little confused by Marron and the stronghold at Delphi – why does he have this outpost of high technology and the other Outsiders are still living in hut villages, hunting and gathering to survive without any tech? He was obviously well-known to Perry and Roar, so why doesn't everyone want to live there?
I wasn't suprised to learn that Under the Never Sky has been optioned by a major film company – it's rather Hunger Games-esque in its hunting scenes and the fleeing through the forest parts. I do think it will make an amazing movie if it does come toghether though – the aether, the mixture of primitive and future technologies… I'll look forward to seeing it!
Those who enjoy YA Fantasy and Sci-fi should love the gritty action and swoony romance in Under the Never Sky. It's an amazing debut from Veronica Rossi and I'm looking forward to seeing what else this talented author has in store.
Warnings: Violence, sexual situations (not graphic)
Under the Never Sky
What did others think of Under the Never Sky?
"So much of this book is beautiful but the character creation and development takes the cake." – The Fiction Pixie

"There are some excellent supporting characters and Rossi has given us several very different environments/worlds within the entire world she has created which is awesome." – All the Books I Can Read
"One of my favourite debuts of the year, Rossi's Under the Never Sky is a fast-paced adventure of self discovery, action, romance and sacrifice." – Badass Bookie