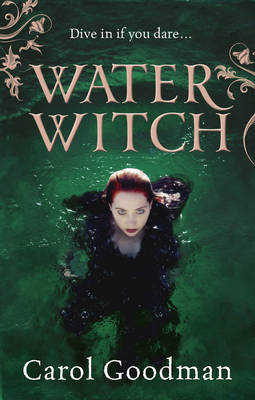 Title: Water Witch (Goodreads)
Author: 

 Carol Goodman (or her pseudonym, Juliet Dark)
Rating:





"You have only to call my name to bring me back", he whispered, his breath hot in my ear. "You have only to love me to make me human".
Callie McFay is the guardian of the last gateway between the world of Faerie and mankind. Seduced by a powerful incubus demon, she has succeeded in banishing Liam to the Borderlands but he still haunts her dreams, tempting her with the knowledge of how to bring him back. But loving an incubus usually ends in death for a human. For her own sake Callie must learn to control her desires and ensure Liam remains trapped for all eternity in his watery prison.
Only there is a more dangerous creature than Liam in the Borderlands. The Water Witch is also looking for a way back…
Details
Series: Fairwick Chronicles #2
Genre: Adult Paranormal Romance
Published: Ebury Press, September 2012 (will be published February 13, 2013 in the USA by Ballantine – Random House)
Pages: 339
My Copy: The publisher via Netgalley
Paper copies: Amazon.com (pre-order) • Amazon.co.uk • Book Depository
E-copies: Amazon.com • Amazon.co.uk • Barnes & Noble • Bookworld (epub)
Please note: This review is for the second book in this series, so contains spoilers for the first book, Incubus/The Demon Lover. You may wish to go and read my review of that book instead!
Review
Note: The Water Witch was published in the US under Carol Goodman's pseudonym, Juliet Dark. 
Callie McFay is a doorkeeper – the only one who can open the last remaining door to Faerie in the woods near Fairwick. The society of witches called the Grove have decided that the door is too dangerous to remain open – it has been letting in all manner of creatures including the Incubus who attacked Callie a few months previously. They want it shut, for ever. Callie and the supernatural creatures who call Fairwick home do not agree and decide to do everything within their power to keep the door open.
Meanwhile, despite her best intentions, Callie is still desperately missing her Incubus lover, Liam. She travels to faerie and meets up with him there, but when she returns she starts having strange dreams again. Could Liam be back?
Water Witch is an enjoyable sequel to Incubus. We get to see the development of Callie's powers, but the romantic aspects of the story that were in the forefront of Incubus are not so important in Water Witch. In fact, Callie has less actual sex with anyone and has more imaginary dream sex again. Also she falls for no less than three separate men over the course of this book. I'm starting to think Callie is… how can I put this delicately? Impressionable, perhaps?
The story is once again smart and quite funny at times. The secondary characters really develop well and bring out their interesting personalities.
One of the main problems I had with Incubus was that the story consisted of a few exciting events, interspersed with boring college life. Water Witch has none of that – in fact the entire story plays out within the space of a few weeks during the college vacation, so this book is free to contain pretty much all action. And it does!
Callie's poor Incubus doesn't get much of a go in this book, although there is some raunchy action early on in the story. Without giving anything away, Callie really frustrated me with her inability to see the obvious right in front of her. The second half of the story was really quite predictable and I found it a shame. Once again, we're left on a cliffhanger so we'll just have to wait and see what happens next!
Warnings: Graphic sexual content.
What did others think of Water Witch?

"It was an entertaining read, but very high on the cheese factor." – The Book Stop
"I desperately wanted to know what would happen on each page. I was also hoping a heavy branch would fall on Callie's grandmother." – Fangs, Wands & Fairy Dust
"Callie Callie Callie… what are we going to do with you?? She seems to be a lovely girl, but someone you just want to smack upside the head for all the lousy decisions she makes!" – Book Chick City