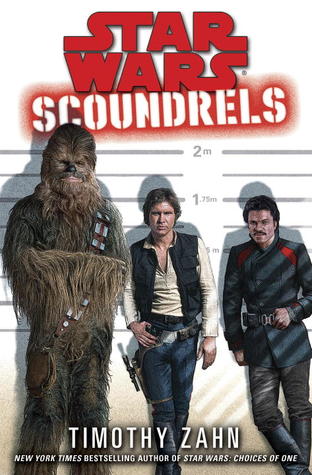 Title: Star Wars: Scoundrels (Goodreads)
Author: Timothy Zahn (Facebook)
Rating:





Han Solo should be basking in his moment of glory. After all, the cocky smuggler and captain of the Millennium Falcon just played a key role in the daring raid that destroyed the Death Star and landed the first serious blow to the Empire in its war against the Rebel Alliance. But after losing the reward his heroics earned him, Han's got nothing to celebrate. Especially since he's deep in debt to the ruthless crime lord Jabba the Hutt. There's a bounty on Han's head—and if he can't cough up the credits, he'll surely pay with his hide. The only thing that can save him is a king's ransom. Or maybe a gangster's fortune? That's what a mysterious stranger is offering in exchange for Han's less-than-legal help with a riskier-than-usual caper. The payoff will be more than enough for Han to settle up with Jabba—and ensure he never has to haggle with the Hutts again.
All he has to do is infiltrate the ultra-fortified stronghold of a Black Sun crime syndicate underboss and crack the galaxy's most notoriously impregnable safe. It sounds like a job for miracle workers . . . or madmen. So Han assembles a gallery of rogues who are a little of both—including his indispensable sidekick Chewbacca and the cunning Lando Calrissian. If anyone can dodge, deceive, and defeat heavily armed thugs, killer droids, and Imperial agents alike—and pull off the heist of the century—it's Solo's scoundrels. But will their crime really pay, or will it cost them the ultimate price?
Details
Series: Stand-alone, but part of the greater Star Wars saga
Genre: Science fiction heist
Published: Del Rey (Random House), January 2013
Pages: 432

Paper copies: Amazon.com • Amazon.co.uk • Book Depository
E-copies:  Barnes & Noble
Review
Scoundrels is a very enjoyable grand heist story, set in the Star Wars universe. If you've seen Ocean's Eleven, you've got the basic storyline here – Han Solo and Chewbacca are offered an amazing reward for busting some stolen credits out of a maximum-security safe. Han gathers a team of professional thieves and slicers to take on the job, including Lando Calrissian.
The story takes place after the events of A New Hope (Episode IV) but before the Rebels relocate to Hoth at the start of Empire Strikes Back (Episode V). Han has received credits as a reward for his part in the rescue of Princess Leia and the destruction of the Death Star, but he was held up by pirates and the money was stolen before he could pay off Jabba the Hutt. Now he's looking for a new job to raise the money again, and get those bounty hunters off his back, but with the Black Sun organisation making their presence known and Imperial agents sniffing about, a carefully crafted plan may not be enough to pull the caper off.
Timothy Zahn is a master of Star Wars lore, having already written at least 10 other books set both before and after the time of the films. I have actually read his Heir to the Empire series as well, a long time ago. His stories are easy to read and very suspenseful – you're never quite sure who can be trusted or what the plan actually is until it happens. To a certain extent the ending is predictable – we know how some of it ends, because Lando isn't happy with Han when they meet at Bespin during Empire Strikes Back ("You've got a lot of guts coming here…"), and we know the bounty hunters are still after Han. Despite that, the actual order of events is never obvious and there are plenty of twists throughout.
Being set within the timeline of the original three films is a major bonus here – unlike some of the other Star Wars books, there are only a few references to obscure places and people elsewhere in the universe, or events that happened in the past outside of the film storyline. This makes Scoundrels a more accessible book to those who are just film fans and not necessarily lore gurus like some people I know (*eyes SWTOR-playing friends*).
Scoundrels gives a bit of extra insight into some of my favourite characters from the Star Wars films. Han shows true leadership and more of his intelligent side than the "scruffy looking nerf herder" of the films. While Chewie doesn't exactly get a lot of dialogue, he is still a major player in the heist. I didn't feel that Han, Chewie and Lando showed that much of their film personas, but I get the feeling that the audiobook version would bring out the characters we know and love a lot better.
I'd recommend Scoundrels to Star Wars fans. Prior Star Wars knowledge isn't essential, so those who enjoy an action-packed heist story should enjoy this one too!
Warnings: Star Wars levels of violence (blasters, no blood)
What did others think of Scoundrels?
"All in all this is a big step away from the traditional SW novels focused on action with plenty more tension and planning, but there are still plenty of things that go boom." – The Mad Hatter's Bookshelf

"Zahn takes a number of risks here, writing something of this kind for the franchise, and as I read the book it was clear he looked simply to have fun with it and hoped readers would do the same. I think he was right because I had a good time!" – SFRevu
"Zahn tells a good story and Scoundrels is no exception. He has the advantage of building upon the foundation of a well-known universe and Zahn uses that to his advantage, skillfully unveiling parts of Lucas' universe for new readers without rehashing what the passionate fans may already know." – Stainless Steel Droppings