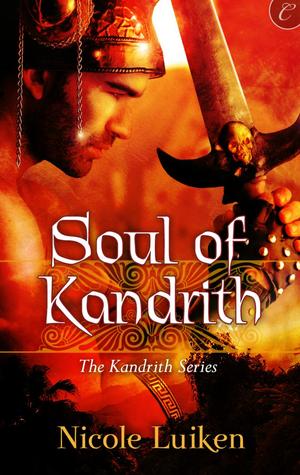 Title: Soul of Kandrith (Goodreads)
Author: 

  Nicole Luiken (@NicoleLuiken)
Rating:





Lance is a healer and wielder of slave magic, a power that demands sacrifice. He gave up his health to gain the ability to heal others, but he's powerless to cure his beloved Sara, who sacrificed her soul to save Lance and all of Kandrith. Returning her soul would negate her gift, at the cost of his life and the freedom of his homeland.
Now Sara is but a shell of the noble, spirited woman she once was. All that Lance saw and loved in her is gone, but he refuses to give up on her. Charged by his sister, the ruler of Kandrith, with a mission to encourage a budding rebellion within the aggrandizing Republic of Temboria, he leaves with Sara in tow. But not before Wenda's soulsight detects a spark within her.
Amidst the escalating dangers in hostile territory, Lance will have to risk both his beloved and his homeland in a final gambit to save them both…
Details
Series: Kandrith #2 of 2
Genre: Adult High Fantasy/Romance
Published: Carina Press, March 18, 2013
My copy: From the publisher via Netgalley, thanks!
E-copies: Amazon.com • Amazon.co.uk • Barnes & Noble
Review
Please note: This review is for book 2 in the Kandrith series and contains spoilers for the first book. You may wish to read my review of Gate to Kandrith instead!
---
Soul of Kandrith is the conclusion to the duology that began with Gate to Kandrith. I loved the first book – Loma's sacrifice magic, the slave nation, Sara and Lance's romance. All that is there in Soul of Kandrith, but takes a back seat to other events that weren't quite so enjoyable.
It's been a year since I read Gate to Kandrith so my memory of what had happened was a bit hazy. The action begins right away without any recap, and it was a bit tricky to get back into what had been happening.
Sara is now a soulless automaton after sacrificing her soul to banish an evil blue devil. Lance brings her back to the nation of Kandrith to see if his sister Wenda, the new leader of the nation, can see any spark of a new soul in Sara.
Before long, Lance is sent off on a mission to the province of Gotia to aid rebels there and encourage them to break free of the Republic. Sara goes with him, absent of any feelings – all she knows is that Lance is important and she should stay with him. She begins to find both pain and pleasure interesting sensations, which leads her into numerous situations of abuse and self-harm. Lance must try to keep her safe until her new soul can develop, while trying to convince the Gotian rebels that slave magic can help them.
What I liked
Lance. I love healers (I play them in games as often as I can) and I especially love that Lance has given up his own health to be able to heal others. It would be so annoying to be sick or injured in some way all the time, but Lance puts up with it without a whimper. What a star! 

The romantic scenes were few and far between in this book, but when they did happen, wow!
The action was non-stop in this story. Lance, Rhain or Sara are always off getting themselves into trouble and needing to be rescued/healed/slapped. The whole thing is very well written and I enjoyed at least the first half of the story a lot.
What I didn't like so much
All the men are nasty. With a few notable exceptions, just about every bloke in this book wants to rape Sara. I mean, I know soldiers aren't always the most noble of gentlemen but really, both the Republicans and rebels are arseholes to a man.
Sara's reasoning. Surely if she wished to keep herself and her unborn baby safe for several months, she would try to avoid such horrible situations! I just felt the whole slavery portion of the book went way over the top with the levels of abuse. There's only so many times I want to read about people being raped.

The ending felt rushed. Considering how much pain and suffering all the characters go through, I had hoped for a little more detail about the aftermath.
Despite the horrible situations in this book that I felt went a little too far, I did enjoy reading about Sara and Lance's story and was on the edge of my seat for most of the book. If you read the first book, you won't be disappointed with the rest of the story.
 Warnings: Plenty of graphic violence and rape.
What did others think of Soul of Kandrith?
"So am I glad I read this? Absolutely. I was dying for it and in that sense, I enjoyed the second half of Sara and Lance's tale. What I just didn't like were some of the choices that the characters made." – The Window Seat
"Luiken's latest offering is a tough, long slog. Readers familiar with her previous novel will have no problem immersing themselves in the story, despite unlikable characters and a plot that builds extremely slowly." – RT Book Reviews