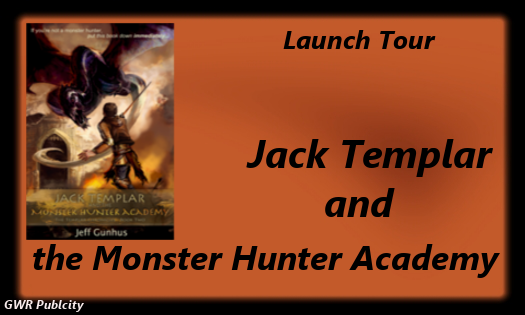 Welcome to The Oaken Bookcase's stop on the Jack Templar Monster Hunter Academy tour! Following my review, there are links to the rest of the tour, plus a great giveaway. 
Warning: Only proceed if you are absolutely sure you want to find out about Monster Hunters. Reading this book will almost certainly cause a load of monsters to descend on your house. There's no backing out if you suddenly get scared of zombies or vampires! Don't say I didn't warn you.
---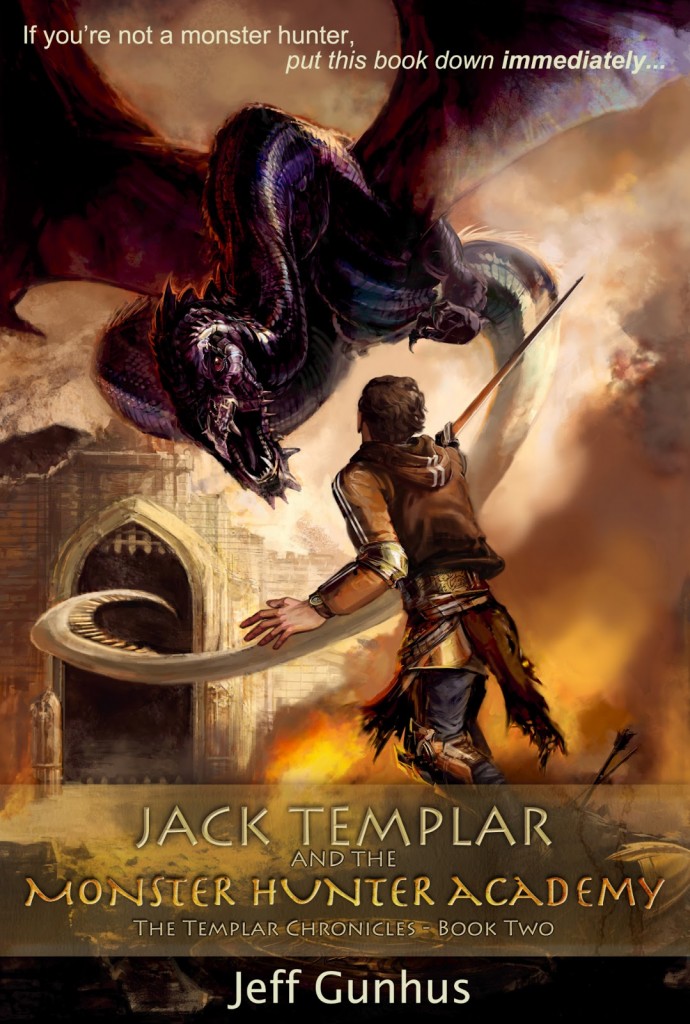 Title: Jack Templar and the Monster Hunter Academy (Goodreads)
Author: 

 Jeff Gunhus (@JTmonsterhunter)
Rating:





After barely surviving the onslaught of monsters that tried to kill him the day before his fourteenth birthday, Jack Templar leaves his hometown on a quest to rescue his father and discover the truth about his past. Joined by his friends Will and T-Rex, and led by Eva, the mysterious one-handed monster hunter, Jack sets out for the Monster Hunter Academy where he hopes to find answers to his questions. Little does he suspect that the Academy is filled with dangers of its own, many of them more terrifying than anything he's faced so far.
Details
Series: The Templar Chronicles #2
Genre: Middle-grade/Teen Fantasy
Published: Seven Guns Press, April 3, 2013
Pages: 375
Paper copies: Amazon.com • Amazon.co.uk 
E-copies: Amazon.com • Amazon.co.uk • Barnes & Noble • IndieBound
Review
Please note: This review is for the second in this series, and so may contain spoilers for the first book. You may prefer to read my review of Jack Templar Monster Hunter instead!
---
I've managed to deal with the Creach that find me from time to time after reading the first Jack Templar book – long enough to bring you this review of the second, anyway.
Jack is the son of Monster Hunters, who has just survived past his fourteenth birthday after being attacked by zombies, werewolves and worse. After surviving his encounter with the Creach Lord Ren Lucre, Jack and his friends go with Eva and travel to France to the Monster Hunter Academy. What they find there is not the warm welcome Jack had hoped for.
I had very high hopes for this second tale from Jack Templar, since I really enjoyed the first. I was let down a bit though- once the group reach the Academy, the story falls into the usual boarding school woes, a mysterious challenge that Jack mysteriously gets signed up for, and so on. With Jack also being the only one who can save the world from the forces of darkness it started to feel a bit Harry Potter-ish, and I think it's for this reason that I didn't enjoy it as much as I did the first book. It's almost as though Jeff Gunhus has tried to pack too much into this story – castles, dragons, werewolves, discovery of Jack's power – that's a lot to cover in a reasonably short book.
Despite these things, Jack Templar is still a funny storyteller. The action is fast-paced and quite unrelenting – I felt like I needed a rest by the end of it since Jack was so busy through the whole story. Not a dull moment to be seen, which is perfect for middle-grade and young teen readers.
Monster Hunter Academy is a well-written and enjoyable story, but it lacked a bit of the originality that made the first Jack Templar book stand out for me. I'll be keeping an eye out for the next instalment – the series promises to be an interesting journey after the recent events at the Academy!
Warnings: Some rather grisly violence.
About the Author:

Jeff Gunhus grew up in Cyprus, Greece, and Saudi Arabia where there was a distinct lack of television. He quickly found books were the gateway to incredible adventures, fascinating characters and unbelievable discoveries. Now, with five children of his own (all who watch too much television, in his opinion), he has enjoyed revisiting his old books and reliving those adventures all over again.
The Tour and Giveaway
Visit the tour site at Girl Who Reads to see the full tour information. The giveaway is at the bottom of this post!
April 4
Classic Children's Books Excerpt
Larkin's Book Bloggers Review
Brooke Blogs Excerpt
April 5
The Oaken Bookcase Review
Italian Brat's Obsessions Featured Book
April 6 Lubs Book Chatter Review
April 7 My Devotional Thoughts Review
April 8 Here's the Story Review
April 9 Library Girl Reads & Reviews Excerpt
April 11 What Shall We Blog About Today? Top Ten & Review
April 12
Paperback Princess  Review & Top Ten List
Girl Who Reads Excerpt
April 13 Alli's World Excerpt
April 14 Ohana Day Academy Review & Excerpt
April 17 Keeping Up With The Rheinlanders Review & Top Ten List
a Rafflecopter giveaway