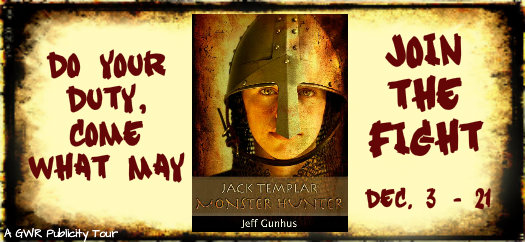 Welcome to The Oaken Bookcase's stop on the Jack Templar Monster Hunter tour! Following my review, there are links to a whole lot of other articles about this book. 
Warning: Only proceed if you are absolutely sure you want to find out about Monster Hunters. Reading this book will almost certainly cause a load of monsters to descend on your house. There's no backing out if you suddenly get scared of zombies or vampires! Don't say I didn't warn you.
---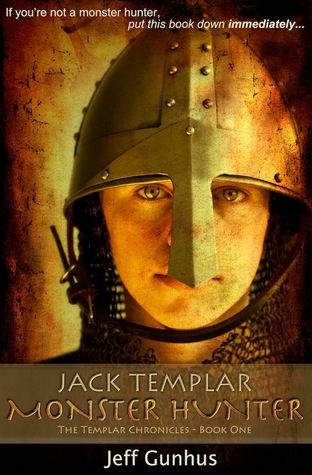 Title: Jack Templar Monster Hunter (Goodreads)
Author: 

 Jeff Gunhus (@JTmonsterhunter)
Rating:





Orphan Jack Templar has no memory of his parents and only the smallest details from his Aunt Sophie about how they died. The day before Jack's fourteenth birthday, things start to change for him.
At first it's great: A sudden new strength helps him defend his nose-picking friend "T-Rex" from the school bully, and even his crush, Cindy Adams, takes notice. But then a mysterious girl named Eva arrives and tells him two facts that will change his life forever. First, that he's the descendent of a long line of monster hunters and he's destined to be in the family business. Second, that there's a truce between man and monster that children are off-limits…until their fourteenth birthday! Jack has only one day before hundreds of monsters will descend on his little town of Sunnyvale and try to kill him.
Details
Series: Jack Templar #1
Genre: Middle-grade/Teen Fantasy
Published: Seven Guns Press, October 2012
Pages: 196
Paper copies: Amazon.com • Amazon.co.uk 
E-copies: Amazon.com • Amazon.co.uk • Barnes & Noble • IndieBound
Review
Jack is an ordinary thirteen-year-old with the usual problems at school, but a few days before his fourteenth birthday, things start getting really weird. He's suddenly a bit taller, stronger and faster, people start looking strangely at him in the street and his teachers start to go slightly mad. Jack thinks he's the one going crazy, but then Eva shows up and reveals the world of the monster hunters to Jack and his two friends, Will and T-Rex.
As it turns out, monsters leave Monster Hunters' children like Jack alone until they're fourteen years old, then they'll all be trying to kill him. Since Jack never actually knew much about his parents or the details of how they died, this is all rather overwhelming. He deals with the whole situation remarkably well though, and is kicking Creach butt before you can say "hey, here comes a horde of zombies!".
Jack's first person telling of this story is funny and rather dry, and very enjoyable. There are some rather adult concepts in this book including losing one's parents, sacrifice and overcoming the odds, but it's written about in a very accessible way and I think any young teen would love reading it. There's plenty of non-stop action and at less than 200 pages, it's quite a quick read.
Just be warned, the first chapter tells in no uncertain terms that reading this book will bring a horde of the Creach down upon your house, so read at your own risk. (Seriously, what a brilliant first chapter, I loved it!). Also, if you haven't checked out the website, there's plenty more monster hunter info there!
I really enjoyed this introduction to Jack's world and I'll be keeping my eye out for future Templar Chronicles!
Warnings: Some violence.
About the Author:

Jeff Gunhus grew up in Cyprus, Greece, and Saudi Arabia where there was a distinct lack of television. He quickly found books were the gateway to incredible adventures, fascinating characters and unbelievable discoveries. Now, with five children of his own (all who watch too much television, in his opinion), he has enjoyed revisiting his old books and reliving those adventures all over again.
The Tour
Visit the tour site at Girl Who Reads to see the full tour information, including a Giveaway with some awesome swag.
There will also be a Twitter party hosted by Jeff on Friday, Dec. 21, 6 pm – 8 pm EST. If you have survived the numerous monster attacks that you will undoubtedly face, chat with us using the hashtag #JackTemplar. The easiest way to join the party is with http://tweetchat.com/
Dec. 3 Kid Lit Reviews Character Guest Post
Dec. 4 Breath of Life  Review, Character guest post, and swag giveaway
Dec. 5 It's About Time Mamaw Review, Character Guest Post and swag giveaway
Dec. 6 Double the Fun Day
Mrs Mommy Booknerd's Book Reviews Author Guest Post and swag giveaway
Mom With A Kindle Character Interview 
Dec. 7 Tamara's One Stop Indie Shop Guest Post and swag giveaway
Dec. 8 Loves 2 Read Review, Character Guest Post, and swag giveaway
Dec. 9 Italian Brat's Obsessions Review, Character Guest Post, and swag giveaway
Dec. 10 Alli's World Character Guest Post and swag giveaway
Dec. 11 Book Him Danno Review, Character Guest Post, and swag giveaway
Dec. 12  Double the Fun Day
Fairday's Blog! Review
The Preppy Girl in Pink Guest Post
Dec. 13 Here's The Story Review, Author Guest Post, and swag giveaway
Dec. 14 Fairday's Blog! Author Interview and swag giveaway
Dec. 15 Bunny's Review Character Interview and swag giveaway
Dec. 16 The Oaken Bookcase Review!
Dec. 17 Larkin's Book Bloggers Review, Author Guest Post, and Swag Giveaway
Dec. 18 Double the Fun Day
Keeping Up With The Rheinlander's Author Interview and swag giveaway
Geo Librarian Review, Character Guest Post, and swag giveaway
Dec. 19 Double the Fun Day
Pulling Down Books Review
Girl Who Reads Author Guest Post
Dec. 20 Rumor Has It Review, Character Guest Post, Swag Giveaway
Dec. 21 Ali's Bookshelf Author Guest Post and swag giveaway