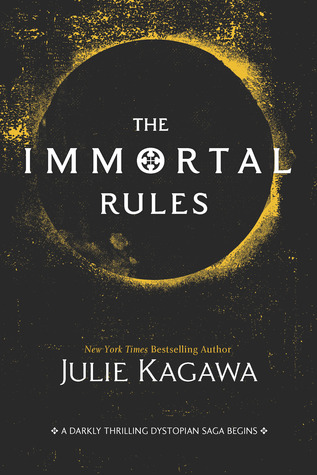 Title: The Immortal Rules (Goodreads)
Author: 

 Julie Kagawa (website)  Follow @Jkagawa
Rating:





Allison Sekemoto survives in the Fringe, the outermost circle of a walled-in city. By day, she and her crew scavenge for food. By night, any one of them could be eaten. Some days, all that drives Allie is her hatred of them—the vampires who keep humans as blood cattle. Until the night Allie herself dies and becomes one of the monsters.
Forced to flee her city, Allie must pass for human as she joins a ragged group of pilgrims seeking a legend—a place that might have a cure for the disease that killed off most of civilization and created the rabids, the bloodthirsty creatures who threaten human and vampire alike. And soon Allie will have to decide what and who is worth dying for… again.
Details
Series: Blood of Eden #1
Genre: Young adult Paranormal/Dystopian Science fiction/Horror (Vampires and Zombies, oh my!)
Published: Harlequin Teen, April 2012. Paperback March 26, 2013.
Pages: 485
My copy: the publisher via Netgalley
Paper copies: Amazon.com • Amazon.co.uk • Book Depository 
E-copies: Amazon.com • Amazon.co.uk • Barnes & Noble • Bookworld (epub)
<!– the identifier in the following script tag can be a GR book id or an isbn –>
Review
I heard so many amazing things about this book around its original publication date in 2012, but avoided it because, well… vampires. I really wish I had picked it up though – I ended up loving it as much as everyone else seemed to!
At some point in the near future, a deadly disease wipes out most of the human population of earth. The vampires were not susceptible to the disease, and barricaded themselves within certain cities, keeping some humans nearby as a food source in exchange for relative safety. In trying to create a cure for the disease, the rabids were created – mindless zombies who roam the world outside the cities, killing any living creature in their path.
Allison (known as Allie) lives in the fringe of the city where everyday survival is a struggle for those who choose to remain unregistered as "blood donors" by the vampires. One fateful night, Allie and her group are attacked and killed by rabids. Allie, however, doesn't stay dead. She is "rescued" by a vampire – turned into the very thing that she hates.
Allie spends much of the story trying to come to terms with the fact that she is now dead, no longer human, and a blood-craving monster. I really admired her strength, but also her vulnerability as she mourns the life she left behind, even if it wasn't much of a life. Her journey out of the city and towards the fabled city of Eden is very tense – at any moment she could be discovered or attacked, or get a whiff of blood and lose her self-control. The pacing is just right and I couldn't put the book down – in fact it kept me reading well into the night with a torch while I was camping over the Easter weekend!
I wasn't sure how I felt about the whole business with the religious group at first. I was slightly annoyed that religion had come into it, but the more I thought about it the more it made sense for someone like Jeb to have such a single-minded purpose. I must admit I thought Zeke was a bit too much of a warm fuzzy romantic interest rather than a real leader, but he does improve by the end. I hope Allison manages to run into him again before long.
Vampire society, while briefly introduced to Allie by Kanin during her training, doesn't play any part in this part of the story. The fact that we see barely any other vampires and that Kanin disappears from the picture so quickly made it painfully obvious that this is just the first part of a much larger story. I'll be interested to see how he comes back into things.
I would highly recommend The Immortal Rules for anyone who likes the sound of a gritty dystopian, with vampires and zombies who are slightly different from the current norm. The second book in this series, The Eternity Cure, is due for release at the start of May and I'm really looking forward to getting stuck into it!
Warnings: Graphic violence including towards children.
Blood of Eden series
What did others think of The Immortal Rules?
"If you swore never to pick up a vampire book again, this book is worth breaking that promise over." – Tea, Daydreams & Fairytales
"Allison is actually a kick-ass heroine set to rival the likes of Buffy and whilst I didn't see her as more than a regurgitated Katniss at first, she soon proved to be a hell of a lot more." – Once Upon A Time
"The Immortal Rules is anything but traditional, and most importantly it is GOOD. (And by good I mean awesome to the point where I had trouble doing my job because I kept telling myself to read "just one more page" on my Kindle app.)" – Nina on Goodreads