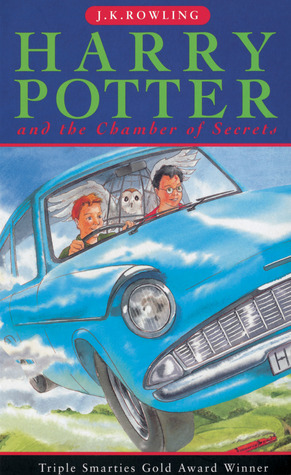 Title: Harry Potter and the Chamber of Secrets (Goodreads)
Author: 

 J.K. Rowling (website) (twitter)
Rating:





Harry, Ron and Hermione have returned to Hogwarts School of Witchcraft and Wizardry for their second year. (But Harry and Ron only just made it-they missed the Hogwarts Express and had to get there in a flying car…!) Soon the threesome are immersed in the daily round of Potions, Herbology, Charms, Defence Against the Dark Arts, and Quidditch.
But then horrible things start happening. Harry hears evil voices. Sinister messages appear on the wall. But nothing can prepare the three friends for what happens next…
Details
Series: Harry Potter #2 of 7
Genre: Children's fantasy
Published: Bloomsbury, 1998
Pages: 251

Paper copies: Amazon.com • Amazon.co.uk • Book Depository
E-copies: Amazon.com • Amazon.co.uk • Barnes & Noble
Review
The second Harry Potter story is slightly longer than The Philosopher's Stone, and so has room for more action. It actually takes Harry quite a while to get to Hogwarts at the start of this one, but once he's finally there, there's a lot to enjoy in this story.
Here are my thoughts from this re-read.
What I liked
The flying Ford Anglia. What a way to start this story – with an adventure on the way to school!
The Basilisk. An excellent baddie – for most of the book we have no idea what it is, just that it whispers things before striking and is able to petrify people. It's the perfect mixture of creepy and intriguing! I almost feel sorry for it at the end – blinded and destroyed just for protecting its lair.
Moaning Myrtle. Poor Myrtle, forced to haunt the girls' bathroom where she met her demise… Despite her depressing story she is quite a funny character.
Gilderoy Lockhart. Such an awesome character, he manages to charm everyone while remaining completely incompetent both as a teacher and as a wizard! I just can't get the image of Kenneth Branagh out of my head, since he did such a great job of Lockhart in the film.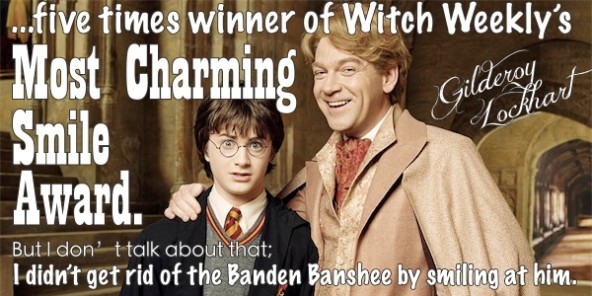 What I didn't like so much
 Harry, Ron and Hermione kept everything to themselves, even when asked expressly by Dumbledore whether there was anything Harry would like to share. At least they were actually on their way to tell a teacher when the final confrontation began, but through most of the story they insisted on finding everything out the hard way, searching through the library and poking around the castle. Of course, it would have been a much more boring story if they had actually told McGonagall or Dumbledore at the start. Perhaps it's the adult in me being too sensible 😛
Ginny. She's still a squeaky little Harry fan girl in this one, barely making any appearances apart from the scene in the chamber of secrets. I'm looking forward to the more grown up kick-arse Ginny of the later books.
To be honest, I don't have much to list under dislikes for this one. I really enjoyed re-reading it!
This one has to be my favourites of the series – an easy read but still fraught with danger and scary monsters. Bring on The Prisoner of Azkaban!
The Harry Potter series
Harry Potter and the Philosopher's Stone (Published as Harry Potter and the Sorcerer's Stone in USA) (1997)
Harry Potter and the Chamber of Secrets (1998)