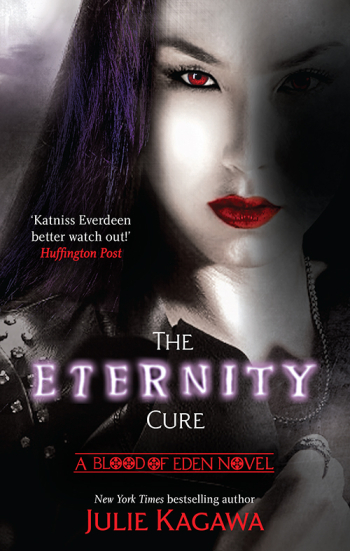 Title: The Eternity Cure (Goodreads)
Author: 

 Julie Kagawa (website)
Follow @Jkagawa
Rating:





Allison Sekemoto has vowed to rescue her creator, Kanin, who is being held hostage and tortured by the psychotic vampire Sarren. The call of blood leads her back to the beginning—New Covington and the Fringe, and a vampire prince who wants her dead yet may become her wary ally.
Even as Allie faces shocking revelations and heartbreak like she's never known, a new strain of the Red Lung virus that decimated humanity is rising to threaten human and vampire alike.
Details
Series: Blood of Eden #2
Genre: Young adult Paranormal/Dystopian Science fiction/Horror
Published: Harlequin Teen, 30 April 2013.
Pages: 446
My copy: the publisher via Netgalley
Paper copies: Amazon.com • Amazon.co.uk • Book Depository
E-copies: Amazon.com• Amazon.co.uk • Barnes & Noble
<!– the identifier in the following script tag can be a GR book id or an isbn –>
Please note, this is my review for the second book in the Blood of Eden series and so contains spoilers for the first book. You may wish to read my review of The Immortal Rules instead!
---
Review
After the rollercoaster ride that was The Immortal Rules, I was keen to get stuck into The Eternity Cure. I was delighted to discover that, although a little slow at the beginning while things were re-capped, this second instalment gripped me just as much as the first!
Allison Sekemoto has delivered her friends to safety, but as a vampire, she is not welcome with them. She resumes her search for her mentor, Kanin, following her sense of his presence as her sire. She knows he is being held captive and tortured by the psychotic vampire Sarren, but instead of being led to Kanin, she discovers her sibling, Jackal – the leader of the Raider city her human friends had been held captive in not long ago. It seems he and Allison might be after the same goal in the short term, but is it safe to trust him?
Even though the subject matter in this story is often quite dark and violent, there is just enough light-hearted humour to bring the story out of being a depressing read. The first few chapters contain quite a lot of re-cap from the first book, so it felt a little slow to someone like me who only just read the first book, but once the action got going, it was all go, go, go. The journey into and back out of New Covington was nail-bitingly suspenseful and there were just enough twists to keep me guessing all the way to the end. And wow, what an ending! The third book cannot come fast enough!
When Allie first meets back up with Jackal, I was a bit confused. I didn't remember him playing a very large role in the first book – apart from being a heartless bastard, that is. In any case, he was an interesting and enigmatic addition to the new storyline, and even by the end we have no idea whether he is trustworthy or not. Such a well-written character, and I enjoyed his snark, even if I wanted to slap him more than a few times! Zeke, also, is quite different in this book – harder and more kick-arse. As the only human through a lot of the story he does a great job at making sure none of the vampires push him around, even if they could rip out his throat at any moment.
The one thing that slightly disappointed me about this book was the romantic aspect. I know, I know, it's young adult, there has to be some romance, and after the scene at the end (no spoilers) it is necessary to a certain degree (my heart! *clutches*), but hear me out. After Zeke appears back on the scene, he knows that Allie is a vampire and that she is now working with Jackal, but he forgives her way too quickly, in my opinion. The rebuilding of their relationship could have been drawn out until the very end of the book in exquisite agony for each of them, but no. I'm trying not to give too much of anything away here, so I'll just say that the romantic elements of this particular book didn't work for me.
The Eternity Cure is a much darker book than The Immortal Rules in a lot of ways, but still brilliantly written and full of edge-of-the-seat suspense all the way through. I would highly recommend this series to any dark urban fantasy enthusiasts.
Warnings: Graphic violence.
Blood of Eden series
What did others think of The Eternity Cure?
"Even better than the first book! Fast pacing and high action combine for a gripping, edge of your seat read!" – Auntie Spinelli Reads
"It is Jackal – Allison's blood brother and old enemy – that truly makes an impression in this instalment. He is cocky, presumptuous, unpredictable, and, more than anything, a brilliant source of dark humour and entertainment." – Realm of Fiction
"…I don't know that I've ever read a vampire story — especially from the point-of-view of the vampire — that I've loved more.  And I've read a lot of good ones.  Trust me." – The Starry-Eyed Revue