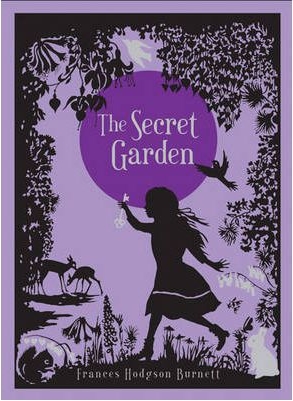 Title: The Secret Garden (Goodreads)
Author:  Frances Hodgson Burnett
Rating:





What secrets lie behind the doors at Misselthwaite Manor? Recently arrived at her uncle's estate, orphaned Mary Lennox is spoiled, sickly, and certain she won't enjoy living there. Then she discovers the arched doorway into an overgrown garden, shut up since the death of her aunt ten years earlier. Mary soon begins transforming it into a thing of beauty–unaware that she is changing too.
But Misselthwaite hides another secret, as Mary discovers one night. High in a dark room, away from the rest of the house, lies her young cousin, Colin, who believes he is an incurable invalid, destined to die young. His tantrums are so frightful, no one can reason with him. If only, Mary hopes, she can get Colin to love the secret garden as much as she does, its magic will work wonders on him.
Details
Series: Stand alone
Genre: Childrens historical classic
Published: First published 1911
Pages: 331
Paper copies:  Amazon.com • Amazon.co.uk • Book Depository
E-copies: Available for free at Project Gutenberg
Review
I always remembered The Secret Garden as a book I particularly enjoyed as a child, so I picked it up recently for a re-read. I was delighted to find that while the story itself is very sweet and simple, the writing is just gorgeous, especially the descriptions of the garden and the moors.
Mistress Mary ("quite contrary") is a spoiled brat of a child, cared for by the servants at her parents' house in India. One day, she wakes to find she is alone in the house – everyone else has died of cholera. Sent to live with her uncle in Yorkshire, England, she discovers that Misselthwaite Manor is full of strange secrets, including a secret walled garden that no-one has been inside for ten years.
It is quite obvious that Burnett loved the Yorkshire Moors and was a firm believer in children getting outdoors and taking fresh air at every opportunity. She must have also loved gardening, as her descriptions of the gardens coming to life in the spring are just beautiful. There's just such a feeling of joy about this book that really made me enjoy reading it again.
There are religious overtones present, but only gently shown – Frances Hodgson Burnett herself was an adherent to the Christian Science movement (not the same thing as Scientology), which sees God not as a person or individual being, but as a manifestation of life force itself. They believe that state of mind is very important – that any ailment can be cured or removed with the "correction of mental error" (from the wikipedia article). These beliefs show through in this story as the "magic" the children find in the garden, from the actual physical healing of Colin, to the more gradual awakening of love and empathy in Mary. I have to admit after reading a little bit about the movement, the idea of "thinking yourself healthy" has quite an attractive sound to it!
This is a beautifully written book and although it might be a little slow in pace for the middle-grade readers of today, I hope they find as much joy in it as I did as a child.
Perhaps you northern hemisphere types might appreciate this excerpt – it describes the coming of Spring to Misselthwaite. Enjoy!
Excerpt – Chapter XV
On that first morning when the sky was blue again Mary wakened very early. The sun was pouring in slanting rays through the blinds and there was something so joyous in the sight of it that she jumped out of bed and ran to the window. She drew up the blinds and opened the window itself and a great waft of fresh, scented air blew in upon her. The moor was blue and the whole world looked as if something Magic had happened to it. There were tender little fluting sounds here and there and everywhere, as if scores of birds were beginning to tune up for a concert. Mary put her hand out of the widow and held it in the sun.
"It's warm – warm!" she said. "It will make the green points push up and up and up, and it will make the bulbs and roots work and struggle with all their might under the earth."
She kneeled down and leaned out of the window as far as she could, breathing big breaths and snuffing the air until she laughed because she remembered what Dickon's mother had said about the end of his nose quivering like a rabbit's. "It must be very early," she said. "The little clouds are all pink and I've never seen the sky look like this. No one is up. I don't even hear the stable boys."
A sudden thought made her scramble to her feet.
"I can't wait! I am going to see the garden!"
She had learned to dress herself by this time and she put on her clothes in five minutes. She knew a small side door which she could unbolt herself and she flew downstairs in her stocking feet and put on her shoes in the hall. She unchained and unbolted and unlocked and when the door was open she sprang across the step with one bound, and there she was standing on the grass, which seemed to have turned green, and with the sun pouring down on her and warm sweet wafts about her and the fluting and twittering and singing coming from every bush and tree. She clasped her hands for pure joy and looked up in the sky and it was so blue and pink and pearly and white and flooded with springtime light that she felt as if she must flute and sing aloud herself and knew that thrushes and robins and skylarks could not possibly help it. She ran around the shrubs and paths towards the secret garden.