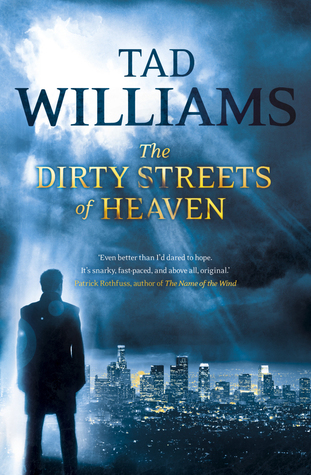 Title: The Dirty Streets of Heaven (Goodreads)
Author: 

 Tad Williams (website)  Follow @tadwilliams
Rating:





Bobby Dollar is an angel—a real one. He knows a lot about sin, and not just in his professional capacity as an advocate for souls caught between Heaven and Hell. Bobby's wrestling with a few deadly sins of his own—pride, anger, even lust.
But his problems aren't all his fault. Bobby can't entirely trust his heavenly superiors, and he's not too sure about any of his fellow earthbound angels either, especially the new kid that Heaven has dropped into their midst, a trainee angel who asks too many questions. And he sure as hell doesn't trust the achingly gorgeous Countess of Cold Hands, a mysterious she-demon who seems to be the only one willing to tell him the truth.
When the souls of the recently departed start disappearing, catching both Heaven and Hell by surprise, things get bad very quickly for Bobby D. End-of-the-world bad. Beast of Revelations bad. Caught between the angry forces of Hell, the dangerous strategies of his own side, and a monstrous undead avenger that wants to rip his head off and suck out his soul, Bobby's going to need all the friends he can get—in Heaven, on Earth, or anywhere else he can find them.
Details
Series: Bobby Dollar #1
Genre: Paranormal fantasy with a side of detective work
Published: Hodder & Stoughton, September 2012
Pages: 406

Paper copies: Amazon.com • Amazon.co.uk • Book Depository 
E-copies: Amazon.com • Amazon.co.uk • Barnes & Noble • Bookworld (epub)
<!– the identifier in the following script tag can be a GR book id or an isbn –>
Review
It's been a long while since I read anything from Tad Williams. Since I absolutely loved his Otherland series, I was interested in what his spin on an angels and demons story would be in the first of this new paranormal series. As it turns out, he pulls it off amazingly well.
Bobby Dollar, or Deloriel, is an angel – or more accurately, an Advocate of Heaven. After death, each person's soul is judged on their actions and it is decided whether they go to Heaven, Hell, or spend some time in Purgatory. Bobby's job is to argue the case for Heaven – to try to spin the life of the recently deceased into something positive that will get them into Heaven. The demons who argue Hell's case are pretty nasty guys, but even they are worried and upset when souls start going missing after death, without being judged. Bobby Dollar realises he is in serious trouble when he is accused of stealing something valuable from one of the higher Demons, and he doesn't even know what it is he is supposed to have stolen! The Hellspawn are angry though, and they'll go to any lengths to get back what is theirs.
Don't be put off by the whole religious subject matter – this is Fantasy rather than Christian lit, after all, and the business of which religion actually gets it right is glossed over rather well – the Angels just don't know that, they onlt know they serve Heaven and the Highest. The concepts explored in this story are fascinating – from the whole hierarchy of Angels and the society of Heaven and Hell, to the mysterious Third Way and what happens when we start to question the reasoning of those who are supposed to be acting in our best interests.
There's a lot of explanation at the start of the book, which is probably necessary to explain the complicated nature of what happens after death. There's quite a lot of action throughout the book including car and motorbike chases, shoot-outs and even a boat chase (James Bond, anyone?), but the action is often interspersed with Bobby doing his gumshoe work to find out what's going on – something I found slowed the pace dramatically. Perhaps that's just because I don't particularly like cop dramas that much. I did wonder why, as an advocate for souls with guardian angels to tell him about the lives of the recently deceased, did Bobby have such an extensive network of informants and hackers at his disposal? He never mentions having to do other kinds of "spook" work for his bosses.
The descriptions are fabulous – of Heaven, of the Outside, even of San Judas itself. I think this story would make a great screenplay because I could almost see the scenes coming together as I read them, and the humour is spot on and had me giggling to myself on the train.
What really made this story stand out for me was Bobby Dollar himself. He's snarky and often unpleasant, but at the core, a really decent, funny and good guy. If I was using D&D terms, I'd call him "chaotic good" – his methods may be unorthodox but his intentions are always for the best. I really hope one day, there's an angel like him on my side!
The Dirty Streets of Heaven was a very enjoyable story – fans of Williams should enjoy it, and well as anyone interested in a different take on the Heaven/Hell mythos. I've seen it compared in Goodreads reviews to Supernatural, and to the Dresden Files series (neither of which I've seen or read – perhaps I should!).
The second in this series, Happy Hour in Hell, is due for release sometime later this year.
Warnings: Graphic violence including torture, explicit sex scenes.
What did others think of The Dirty Streets of Heaven?
"While far from perfect, The Dirty Streets of Heaven is a really fantastic book. Set against a fascinating religious backdrop, brimming with all sorts of exciting ideas, and maintaining a seamless blend of action and humor throughout its entire length, everything here is worth reading." – The Ranting Dragon
"Bobby Dollar is every inch the sarcastic, self important maverick detective he should be, happy to pursue even his friends past the limit of patience and willing to take risks with his job (and his life) in his search for answers." – The Upcoming
"I will admit the Angel and Demon warfare aspect of this book is what I enjoyed the most; Williams added some interesting concepts and blended some theology in as well and I think it balanced out nicely." – Literary Exploration