This review is part of the Discover Aussie Fantasy feature, running during July on The Oaken Bookcase. You can find details of the feature and enter the giveaway on the Aussie Fantasy page!
---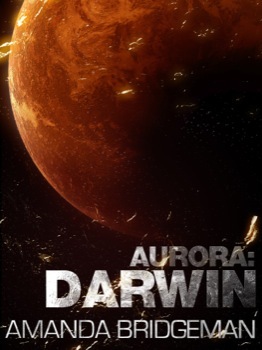 Aurora: Darwin (Goodreads)
Author: 

 Amanda Bridgeman (website)
Follow @AmandaBridgema1
Rating:





When a distress signal is received from a black-ops space station on the edge of inhabited space, Captain Saul Harris of the UNF Aurora is called in from leave to respond. But the mission is not what it seems. Female members of the United National Forces have not been allowed to travel into the outer zones before, but Harris is ordered to take three new female recruits.
For Corporal Carrie Welles, one of the Aurora's new recruits, her first mission in space seems like a dream come true. Determined to achieve the success of her father before her, and suddenly thrust into a terrifying mission, she must work with her new captain and the strained Aurora crew to make it home alive.
When the Aurora arrives at the station Harris and Welles soon find themselves caught up in a desperate fight for survival. Station Darwin is not what they expected. The lights are off. But somebody is home.
Details
Series: Aurora #1
Genre: Science fiction Thriller
Published: Momentum Australia, May 1, 2013
Pages: 532
My copy: the publisher for review, thanks!
E-copies only:  Amazon.com • Amazon.co.uk • Momentum books
You can read a sample of Aurora: Darwin on the Momentum books site!
Review
It's been a while since I read a proper hard military sci-fi. Often they are cold, violent stories with few realistic characters, and while Aurora: Darwin doesn't hold back with the violence, there are plenty of opportunities to connect with the crew of the Aurora before the action starts. I was even a bit disappointed when they arrived at the Darwin because I was quite enjoying reading about how the original crew were reacting to suddenly having three women in their previously all-male domain.
The story is told from two alternating points of view – Captain Saul Harris, who knows something is up with this mission even before he accepts it, and Corporal Carrie Welles, a young Aussie sharpshooter, new to Space Duty but desperate to fit in and prove her usefulness. The rest of the crew are various nationalities and backgrounds, including the two other women sent along with this mission as a supposed PR exercise.
There were a few things about this story that I didn't really buy. Firstly, several of the crew members of the Aurora question orders, including Captain Harris. Now, I'm no military expert, but I'm fairly sure that orders aren't there to be questioned and in the real Earthly armed forces you'd get your arse kicked pretty severely if you defied orders as much as Carrie does. Then there was the Darwin. If your crew had just been attacked by vicious hostiles of unknown abilities and you knew they were locked off your ship, why go back in after them? Especially when there's backup on the way! I just couldn't understand why they were so keen to get back into the Darwin and find the baddies, when they were pretty obviously out-gunned. I mean I realise it wouldn't have been such a great story if they'd held back, but it just seemed like a really dumb decision to me. One last thing that I didn't like so much was the ending – without giving anything away, the story peaks at about the 80% mark and I was rather underwhelmed by such an anticlimactic wrap-up after that.
Plot problems aside, I really enjoyed reading this story. The action scenes were great and although the character-building scenes slowed the pace a little at times, the tension was kept high throughout the story and it's pretty nail-bitingly scary at times! The characters themselves are interesting and their relationships and banter are what made this story a really enjoyable read.
I'd recommend Aurora: Darwin to anyone who likes their sci-fi to be about realistic people, and not overly technical. There's a sequel on it's way later in 2013 – Aurora: Pegasus. I'll be interested to hear what the Aurora's crew get up to next.
Warnings: Graphic violence, sexual situations
About the Author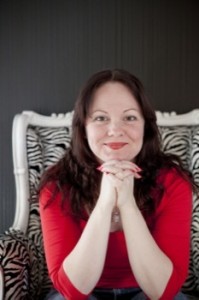 Born and raised in the seaside/country town of Geraldton, Western Australia, Amanda hails from fishing and farming stock. The youngest of four children, her three brothers raised her on a diet of Rocky, Rambo, Muhammad Ali and AC/DC. Naturally, she grew up somewhat of a tomboy, preferring to watch action/sci-fi films over the standard rom-com, and liking her music rock hard. But that said, she can swoon with the best of them and is really not a fan of bugs.
She lived in 'Gero' for 17 years, before moving to Perth (WA) to pursue her dreams and study film & television/creative writing at Murdoch University (BA Communication Studies). Perth has been her home ever since, aside from a nineteen month stint in London (England).
She is a writer and a film buff. She loves most genres, but is particularly fond of the Spec-Fic realm. She likes action, epic adventures, and strong characters that draw you in, making you want to follow them on their wild, rollercoaster rides.
When she's not writing, she loves to travel and partake in a little photography.
(Bio and image from Goodreads)