This review is part of the Discover Aussie Fantasy feature, running during July on The Oaken Bookcase. You can find details of the feature and enter the giveaway on the Aussie Fantasy page!
---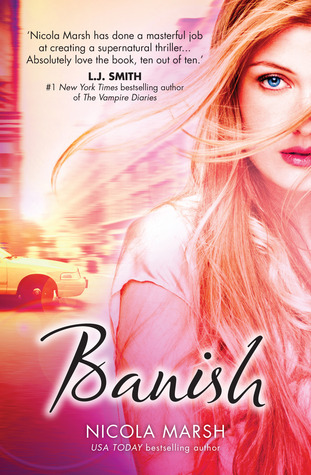 Banish (Goodreads)
Author: 

 Nicola Marsh (website)
Follow @NicolaMarsh
Rating:





Alyssa has one week to destroy her enemy, save her spirit… and save her soul. 
After her ex-boyfriend commits suicide and her mum's alcoholism sparks yet another psychotic episode, seventeen-year-old Alyssa Wood flees her small hometown of Broadwater and heads to New York City to stay with her bohemian aunt — a Wicca High Priestess.
Alyssa revels in the anonymity of a big city and her new life. Her grades climb, she has a new best friend, and a new guy: the sexy geek Ronan — a saxophone player who prefers jazz to pop.
But her newfound peace is soon shattered when she sees a dead body in one of Ronan's music clips — and she's the only one who can see it. Worse still, Alyssa recognises the body that has been murdered a week forward!
Alyssa doesn't believe in the supernatural…despite her family's Wicca background. So how will she overcome evil when it's closer than she thinks?
Details
Series: Stand alone (so far)
Genre: YA Paranormal Fantasy
Published: Harlequin Teen, August 1, 2013
Pages: 272
My copy: the publisher for review
Paper copies:  Book Depository (pre-order) • Bookworld • Booktopia
E-copies:  Amazon.com

Review
Alyssa's boyfriend committed suicide just after she dumped him, and on top of her mum's strange behaviour and alcoholism this is all just too much. She flees to New York City to live with her aunt, who is a Wicca High Priestess. She loves living in the city and she is settling in to her new school. She has even been asked out by the hot music tutor, Ronan. But something strange starts to happen to Alyssa – one of Ronan's music clips contains footage of a murdered person at the end, and when things relating to her dead ex-boyfriend Noah start showing up, Alyssa is seriously freaked out. Is there someone out to get her, or is there something more supernatural at work?
Banish is a rather creepy paranormal thriller. The story takes a little while to get going, with Alyssa only gradually revealing what happened to her before coming to New York City, but once things get going the tension is high all the way through.
Sadly, the characters annoyed me. Ronan was too perfect and a rather creepy older guy – I kept thinking he would make a great psycho killer, even though it was rather obvious who the real baddie was going to be. Alyssa was just extremely selfish all the way through – she gets back home to find her mother feeling much better than she was before Alyssa left, and rather than be happy for her mum, she feels angry and upset that her mum is doing so much better without her. It's not until the very end of the story that she matures slightly, enough to realise that the world doesn't revolve around her and that she might have dealt with things differently. Also, she is a die-hard skeptic, even after paranormal events happen to her. As the child of a Wiccan, even as a supposed non-believer I thought that she might be slightly more open-minded than she was stubbornly being. I dunno, it's probably just me being rubbed the wrong way!
Despite my character dislikes I did enjoy the overall storytelling style. I don't know a lot about Wicca as a belief system but the elements of it within this book are well-written. It's obvious that Nicola Marsh's previous works are romances – the romantic scenes in Banish are rather swoony. The end of the story is left wide open for a sequel, so there's a good chance I'll pick up the next book in the series.
Warnings: Sexual references, violence
About the Author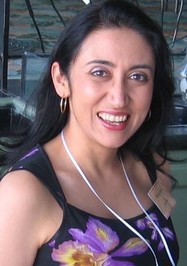 USA TODAY bestselling Aussie author Nicola worked as a physiotherapist for thirteen years before she tired of saying "I'm going to write a book one day" and actually did it. She started writing late 2001 and found once she started she couldn't stop!
Nicola has published 40 books and sold over 4 million copies worldwide with Harlequin Mills & Boon, Entangled Publishing and indie. Her first mainstream contemporary romance, 'Busted in Bollywood', ('Sex and the City' meets 'Eat, Pray, Love') released from Entangled Publishing December 2011 to rave reviews and was a finalist for ROMANTIC BOOK of the YEAR 2012.
Nicola loves the hip, vibrant, cosmopolitan vibe of her home city, Melbourne, where she's set the bulk of her novels, highlighting fabulous cultural and food havens like Acland Street (St. Kilda), Brunswick Street (Fitzroy) and Lygon Street (Carlton).
When she's not writing she's busy raising her two little heroes, sharing fine food with family and friends, cheering on her beloved North Melbourne Kangaroos footy team or her favourite past time, curling up with a good book.
(Bio and image from Goodreads)