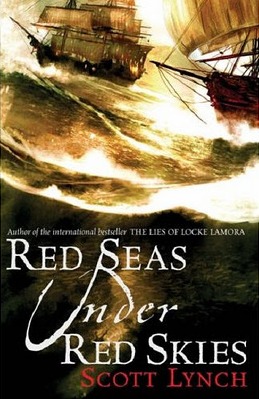 Red Seas Under Red Skies (Goodreads)
Author: 

 Scott Lynch (website)
Rating:





Thief and con-man extraordinaire, Locke Lamora, and the ever lethal Jean Tannen have fled their home city and the wreckage of their lives. But they can't run forever and when they stop they decide to head for the richest, and most difficult, target on the horizon. The city state of Tal Verarr. And the Sinspire.
The Sinspire is the ultimate gambling house. No-one has stolen so much as a single coin from it and lived. It's the sort of challenge Locke simply can't resist…
…but Locke's perfect crime is going to have to wait.
Someone else in Tal Verarr wants the Gentleman Bastards' expertise and is quite prepared to kill them to get it. Before long, Locke and Jean find themselves engaged in piracy. Fine work for thieves who don't know one end of a galley from another.
Details
Series: Gentleman Bastards #2
Genre: Steampunkish Fantasy Adventure with Pirates!
Published: Gollancz, 2007
Pages: 630 (and tiny print in this edition)

Paper copies: Amazon.com • Amazon.co.uk • Book Depository
E-copies:  Amazon.com • Amazon.co.uk • Barnes & Noble • Bookworld (ePub)
Please note: This is a review for the second book in the Gentleman Bastard series, and so contains spoilers for the first in the series, The Lies of Locke Lamora. You may wish to read my review for that book instead!
---
Review
Red Seas Under Red Skies had all the adventure, danger and excitement of The Lies of Locke Lamora, but with even more detail and intricate plot twisting. At times it felt more like a snarl of tangled wool than a coherent story, but if you're familiar with the first book you'll know that's what the Gentleman Bastards are all about.
Locke Lamora and Jean Tannen have escaped from Camorr with their lives, their battle scars and little else. After a couple of years, the setup of a new major heist in the city of Tal Verrar seems to be going well until they run into some old friends from the Magi of Karthain. Suddenly, things start to unravel and Locke and Jean find themselves working against their wishes for several different masters – not only the master of their original target, the Sinspire, but also the Archon of Tel Verrar himself, not to mention the other random attempts on their lives.
In order to preserve his rule, the Archon sends Jean and Locke out to sea to stir up the pirates of the area – something that turns out to be much more easily said than done. Throughout this part of the story, Locke and Jean are tested to the limits of their friendship, their resourcefulness and their courage as they try to fulfil their obligations and keep themselves alive, while still pulling off their planned heist.
There are two things I think Scott Lynch is absolutely brilliant at. The first: convoluted storylines with intricate detail. In fact, sometimes the story got so complicated that I lost track of the characters and aliases involved and had to go back to pick up the threads again. There is also the overwhelming detail relating to ships and their anatomy and operation. If you don't know your craplines from your binnacle then you might be a bit confused by the plethora of nautical terms used in this story, but for the most part it doesn't hurt to have no clue what's being discussed.
Secondly, Lynch is a master of insults. One of my pet peeves in books is the use of the phrase, "So and so cursed under his breath" or "uttered a few choice words" or similar. It is infinitely more satisfying to me as a reader when the character simply says, "Shit." when something bad happens – I'm not sure why, and I understand why the swear words are omitted, but I like it better when they're in. It's why I don't usually mention swearing in book warnings – if you're old enough to read these books, you're old enough to know what swear words are, in my opinion. Anyway, I digress.
In Red Seas Under Red Skies, there is no such holding back with swearing. Locke and Jean themselves have a colourful vocabulary – in fact their banter with each other is the absolute highlight of this book for me. The rest of the cast of characters are not shy with their insults either. I won't repeat any examples here but rest assured there are plenty of occasions that had me laughing with delight.
Locke and Jean are just slightly too honourable to be believable thieves – they aren't shy of picking random pockets but they are loyal to each other and their allies to a fault and won't allow the vulnerable be hurt. Gentlemen, indeed! I love them.
The other characters are interestingly cast as well, from the Majordomo of the Sinspire, Selendri, who was tragically burned all over exactly one half of her body, to Captain Drakasha, a badass mum of two small children who charges into battle without fear. There's plenty of intrigue, romance, betrayal and tragedy in the pages of this second volume, and even though the story threads are neatly tied up at the end, the story is by no means over for Locke and Jean. This book has been out for quite a while now, but the third in the series, The Republic of Thieves, is due out in a few weeks time and I am quite looking forward to seeing how Locke and Jean cope with the new trials in their lives.
Highly recommended to fans of fantasy adventure, pirate tales and casino heists, in no particular order. Just be prepared for slow points with elaborate detail.
Warnings: Graphic violence and torture, sexual situations
The Gentleman Bastards
The Lies of Locke Lamora, 2006
Red Seas Under Red Skies, 2007
The Republic of Thieves, October 2013