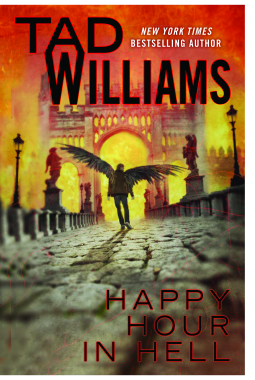 Happy Hour in Hell (Goodreads)
Author: 

 Tad Williams (website)
Rating:





I've been told to go to Hell more times than I can count. But this time I'm actually going.
My name's Bobby Dollar, sometimes known as Doloriel, and of course, Hell isn't a great place for someone like me – I'm an angel. They don't like my kind down there, not even the slightly fallen variety. But they have my girlfriend, who happens to be a beautiful demon named Casimira, Countess of Cold Hands. Why does an angel have a demon girlfriend? Well, certainly not because it helps my career.
She's being held hostage by one of the nastiest, most powerful demons in all of the netherworld – Eligor, Grand Duke of Hell. He already hates me, and he'd like nothing better than to get his hands on me and rip my immortal soul right out of my borrowed but oh-so-mortal body.
But wait, it gets better! Not only do I have to sneak into Hell, make my way across thousands of miles of terror and suffering to reach Pandemonium, capital of the fiery depths, but then I have to steal Caz right out from under Eligor's burning eyes and smuggle her out again, past demon soldiers, hellhounds, and all the murderous creatures imprisoned there for eternity. And even if I somehow manage to escape Hell, I'm also being stalked by an undead psychopath named Smyler who's been following me for weeks. Oh, and did I mention that he can't be killed?
So if I somehow survive Hell, elude the Grand Duke and all his hideous minions and make it back to the real world, I'll still be the most hunted soul in Creation. But at least I'll have Caz. Gotta have something to look forward to, right?
So just pour me that damn drink, will you? I've got somewhere to go.
Details
Series: Bobby Dollar #2
Genre: Paranormal fantasy
Published: Hodder & Stoughton, 26 September 2013
Pages: 400

Paper copies: Amazon.com • Amazon.co.uk • Book Depository 
E-copies: Amazon.com • Amazon.co.uk • Barnes & Noble

Please note: This review is for the second book in the Bobby Dollar series and so contains spoilers for the first, The Dirty Streets of Heaven. You might prefer to read my review of that book instead!
---
Review
Hell is a pretty horrible place, designed to be eternal punishment. Somewhere you'd ideally avoid, right? Bobby Dollar, angel and advocate is heading down there, though, to rescue his girlfriend.
Trouble is, Bobby has no idea how to get there, let alone how to steal Caz from Grand Duke Eligor and get out again. Then there's the strange business with the Third Way and the investigation by the Archangels Bobby is embroiled in. It's a mess, and it's only about to get messier.
I'm having trouble putting words together for this review. On one hand, the detail, depth and imagination in this book is amazing, as I always expect from Tad Williams. On the other hand, the story didn't quite flow as well as I would have liked and I got the feeling that not much actually happened, even though Bobby goes through a hell of a lot (pardon the expression).
Williams' Hell is Dante's Inferno gone mad – a cylindrical piston tube with each level designed for progressively worse levels of punishment. At times, places Bobby visits almost seem like really nasty parts the real world – the inhabitants still need to eat and drink, but everything is designed to keep everyone as miserable as possible, for eternity. Here's where Bobby finds some interesting aspects to Hell – do the damned really deserve to rot in Hell for ever?
There's not just horror and pain in this story, although grisly torture and humiliation is a major part of it. There is also hope, redemption and loyalty down there. I'm actually really looking forward to reading more about how the penitent inhabitants of Hell can redeem themselves. It's certainly not for the faint-hearted, and I definitely wouldn't recommend reading it while eating your lunch (from personal experience).
I didn't like Bobby as much as I did in The Dirty Streets – time and again he reiterates that it's his love for Caz that is getting him through this, but it seemed to me more like its his lust for her that drives him. Casimira herself is portrayed as less of the bad-ass Countess of Cold Hands and more like a helpless victim of Eligor, which I thought was a bit of a shame. Anyway poor Bobby gets taken to some very dark places in this story, both in Hell and within himself. I got the feeling several times that Mr Williams seemed to be enjoying his torture a little too much.
Because most of this book is spent with Bobby moving from one horrific situation to the next, being chased or dragged or sneaking about, there's not a lot of dialogue. The constant descriptions of travel are great, but after a while they tend to slow the story down a bit. There is plenty of action, but it happens in chunks in-between narrated scenes.
I did enjoy the descriptions of locations in this story, even if I didn't particularly what was happening to the characters. There are some very interesting concepts explored but, frustratingly, nothing resolved. I will be grabbing the third book though – Sleeping Late on Judgement Day is due during 2014.
Warnings: Graphic violence including plenty of torture, explicit sex scenes, some abusive.
Bobby Dollar series
What did others think of Happy Hour in Hell?
"… it's scary in here in Tad's imagination!" – Letters and Leaves
"The Dirty Streets of Heaven showed that Tad Williams was on top of his game, Happy Hour in Hell proves this even more the Bobby Dollar series is utterly brilliant." – The Book Plank
"Of course if you've read any of Tad Williams' work prior to the Bobby Dollar series then you probably weren't surprised to hear that he gets a little, ah, descriptive in this book. The difference between the exposition in this book and, say, his Otherland series is that HAPPY HOUR IN HELL is way shorter." – All Things Urban Fantasy