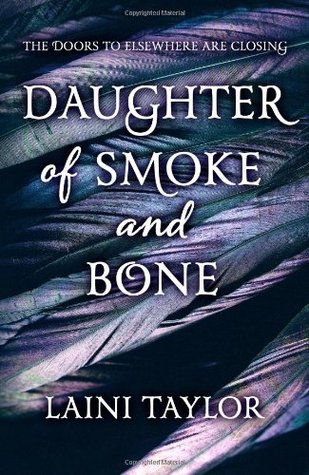 Title: Daughter of Smoke and Bone (Goodreads)
Author: 

 Laini Taylor
Rating:

Series: Book 1 of 3 (planned and unnamed)
Genre: YA Fantasy
Published: Hachette Book Group, 2011
Pages: 418
Paper copies: Amazon.com • Amazon.co.uk • Book Depository
E-copies: Amazon.com • Amazon.co.uk • Ebooks.com
"Errand requiring immediate attention. Come.

The note was on vellum, pierced by the talons of the almost-crow that delivered it. Karou read the message. 'He never says please', she sighed, but she gathered up her things.

When Brimstone called, she always came."

In general, Karou has managed to keep her two lives in balance. On the one hand, she's a seventeen-year-old art student in Prague; on the other, errand-girl to a monstrous creature who is the closest thing she has to family. Raised half in our world, half in 'Elsewhere', she has never understood Brimstone's dark work – buying teeth from hunters and murderers – nor how she came into his keeping. She is a secret even to herself, plagued by the sensation that she isn't whole.

Now the doors to Elsewhere are closing, and Karou must choose between the safety of her human life and the dangers of a war-ravaged world that may hold the answers she has always sought.
Review
I was a bit wary picking this book up since it has been hyped beyond any other book recently released. Thankfully, Daughter of Smoke and Bone delivers. I started reading it a couple of days before I was due to do some travelling for work and thank goodness I did – it gave me a few uninterrupted hours of reading time during which I couldn't bear to put the Kindle down.
I've intentionally left this review fairly vague to avoid spoilers, and also because it had been a while since I read any reviews or descriptions of this book before I started reading it which ended up working really well – the story starts slowly, revealing piece by piece of Karou's lives in Prague and "Elsewhere".
I loved this book! The action was fast-paced and exciting, the story of love and hope of peace between warring races is sweet and lovely, and the romantic scenes were rather swoon-worthy. Karou is a strong, but vulnerable heroine. I felt the love-at-first-sight introduction of Akiva was a little overdone at first, but later the reasons unfolded and it made more sense. I shall say no more in the interest of avoiding spoilers!
I loved the descriptions of places in our world, especially Prague. I only visited the city for one day but I certainly remember the twisting passageways and odd little shops tucked away in the old town area. What a brilliant setting for a fantasy tale!
The worlds and events described in this book are so detailed that I felt I was almost seeing the action taking place before me. I was so pleased to discover that the rights to make Daughter of Smoke and Bone into a film have been acquired by Universal Studios – I thought a couple of times while reading that the story could make a beautiful and unique movie, and I really hope they will do just that.
The story shifts between Karou and Akiva's points of view, and also jumps backwards and forwards in time to tell different parts of the characters' histories. I found this a little off-putting at times, especially as they are just getting into exciting events and suddenly we are in a flashback to a much earlier time. The flashbacks are rarely more than one chapter so we get back to the action quickly, but I felt they disrupted the flow of the story a little.
The ending left me open-mouthed and desperate to know more. The second book in the series will be called Days of Blood and Starlight and is due for release in September 2012. I cannot wait.
Challenge: I read this book as part of the Eclectic Reader Challenge, hosted by Book'd Out.