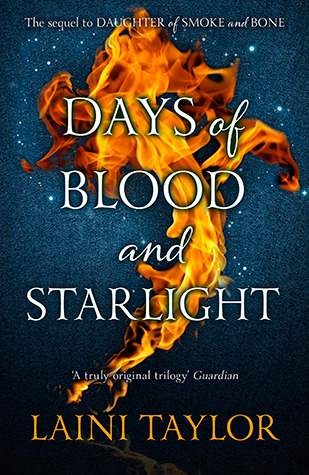 Title: Days of Blood and Starlight (Goodreads)
Author: 

 Laini Taylor (@lainitaylor)
Rating:





Once upon a time, an angel and a devil fell in love and dared to imagine a new way of living – one without massacres and torn throats and bonfires of the fallen, without revenants or bastard armies or children ripped from their mothers' arms to take their turn in the killing and dying.
Once, the lovers lay entwined in the moon's secret temple and dreamed of a world that was a like a jewel-box without a jewel – a paradise waiting for them to find it and fill it with their happiness.
This was not that world.
Details
Series: Daughter of Smoke and Bone #2
Genre: YA Fantasy
Published: Little & Brown, November 6, 2012
Pages: 528

Paper copies: Amazon.com • Amazon.co.uk • Book Depository
E-copies: Amazon.com • Amazon.co.uk • Barnes & Noble • Bookworld (epub)
Review
Please note: This review is for the second in the series, and so contains spoilers for book one: Daughter of Smoke and Bone. You may wish to read my review of that book instead!
The Angels have won – the lands of the Chimaera are ravaged, the cities destroyed and the people are being hunted down and exterminated or taken into slavery. Karou has become the new resurrectionist, holed up in a Kasbah in the deserts of Morocco building new bodies for the White Wolf's army, and she suspects that Thiago isn't telling her all that he's up to on the other side of the rift. Meanwhile, Akiva is struggling with his place in the Misbegotten, heart-sick with what he has done to Karou and with what he and his brethren have been ordered to do to the fleeing Chimaeran survivors.
If it's been a while since you read Daughter of Smoke and Bone, you might like to take a quick flick-through to remind yourself of what happened – there isn't really much of a recap at the start of Days of Blood and Starlight and I had a bit of trouble catching up with what was happening.
Because this book is the second in a trilogy, it is the middle section of a story of war. Sadly that makes this a very dark and often disturbing telling of the events taking place in the two worlds – there is very little of the romance that made Daughter of Smoke and Bone so amazing. Days of Blood and Starlight is a very important part of the overall story, although not a particularly enjoyable one, being an occasionally horrifying account of the persecution of the defeated Chimaera and of the torment of the few soldiers on both sides that question their own orders. It is a story of compassion and love, locked in an epic struggle against the machinations of evil warlords on both sides. It makes for an emotionally raw experience but is certainly building up toward a big finale.
The romantic elements aren't completely missing from this instalment, although they are much more anguished and desperate. The first time Karou and Akiva come face-to-face in this book – wow. I was riveted! I cannot wait to see how it all plays out in book 3.
As before, the supporting cast is brilliant. Karou's best friend Zuzana and her boyfriend Mik play a significant role in this book and I'm so glad – they are so whimsical and adorable and bring just the right amount of light-hearted wit into the story to alleviate the despair. Akiva's brother- and sister-in-arms also lend their quirky humour to the events, as well as their wisdom and support to the cause. Thiago makes the perfect villain – a beautiful and talented leader, but a chillingly evil psychopath at the same time.
Days of Blood and Starlight is a beautifully crafted roller-coaster ride from the depths of despair to a bright burst of hope, and back again. Laini Taylor's writing is emotional and compelling – make sure you've got a few hours to sit down and read this one, because it won't let you go! I'd happily recommend this series to all fantasy fans.
Warnings: Graphic violence, abusive situations.
| | | |
| --- | --- | --- |
| | | Book 3 coming in 2013! |
What did others think of Days of Blood and Starlight?
"Shit has well and truly hit the fan. Oh look, apocalypse. How fun!" – 5 stars – Escape Through the Pages
"I feel the need to revisit Laini's magnificent prose. Her writing is captivating and engaging, provoking vast feeling in you as a reader. She a way with words that not many other writers have (like Karen Marie Moning and Lauren Oliver), and it kept me enthralled every moment of the way, greedily gobbling up every word." – 5 stars – Auntie Spinelli Reads
"Days of Blood & Starlight is a gorgeously written, vividly drawn, page-turner.  Absolutely recommended for anyone loving a epic tale that is bigger than a romance, unique in its approach to age old creatures, and full of characters you can't help but love (or hate as the case may be.)" – 5 stars – Refracted Light Reviews