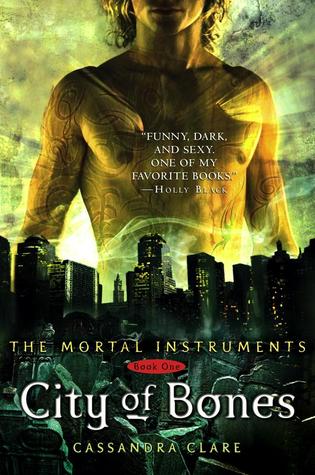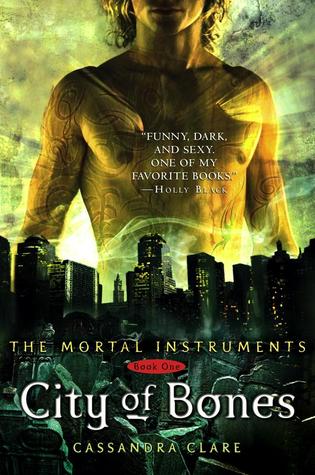 Title: City of Bones (Goodreads)
Author: 

 Cassandra Clare
Rating: 

Series: The Mortal Instruments, Book 1 of 4 (5 & 6 planned)
Genre: YA Paranormal/Urban Fantasy
Published: Margaret K. McElderry Books, 2008
Pages: 512 (paperback)
Paper copies (paperback): Amazon.com • Amazon.co.uk • Book Depository
E-copies: Amazon.com • Amazon.co.uk • Diesel Ebooks
Clary Fray has just witnessed a murder in a nightclub, committed by three teenagers that only she can see. Things only get more strange as her mother disappears, she is attacked by a demon, and she and her best friend Simon are drawn into the world of the Shadowhunters.
Review
Demons, Vampires, Werewolves, Faeries – The Mortal Instruments has it all. This is not, however, another Twilight clone. City of Bones begins what promises to be a great story of good against evil, tolerance against bigotry, falling in love with the wrong people and learning that all the stories are true.
City of Bones came well-recommended to me and I was looking forward to seeing whether all the hype was deserved. As I read the first few chapters of this book though, I couldn't help but feel a little disappointed.
Here were Clary and Simon, ordinary teenagers. They meet a trio of mysterious, tattooed youths who seem very free with information about their secret world.
As more and more details about the Shadow World are revealed, I couldn't help but cringe at the dialogue even though it was quite funny at times. Pretty much everything Simon says in the whole book is a chucklesome one-liner, and the other characters engage in witty repartee even in the most dramatic of situations. Teenagers, at least the ones I know, just don't talk like that. I just felt a little like such an epic story deserved characters who took the whole thing a little more seriously.
Despite their dialogue, I did become quite fond of the characters as the book went on. Clary, despite being blind as a bat when it comes to relationships, was a sweet character. She did seem to spend rather a lot of time looking at Jace's muscles – but who wouldn't, right? The obligatory love-polygon (it's more than a triangle!) aspect was well written and left me wanting to read the next book to tie up the loose relationship ends.
The second half of the book was action-packed and left me unable to put it down – I nearly missed my station on the train a few times this week! I loved the Shadow World that Cassandra Clare has created. The storyline (in the first book, anyway) was quite reminiscent of the Harry Potter series – I was unsurprised to find out later that Cassie Clare had previously written Harry Potter fanfiction and has supposedly used some of that material in City of Bones. I'm hoping that the story will take on some more unique elements in the rest of the series.
City of Bones was an entertaining and exciting read. Read this book if you loved Harry Potter and if you're a Young Adult fantasy fan.
Read it to your little 'uns? Not really. There's no swearing or naughty bits, but it's really a story for bigger 'uns.
Challenges: City of Bones fits neatly into the Immortal Challenge in several categories, but I'll slot it into Werewolves since my Angels/Demons section is looking pretty full.