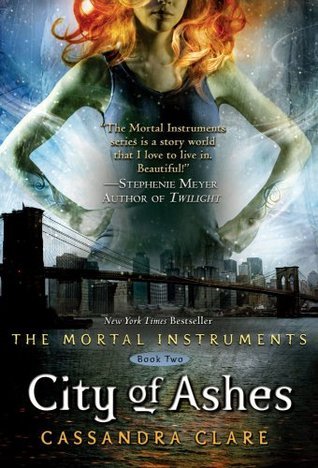 City of Ashes (Goodreads)
Author: 

 Cassandra Clare
Rating:





Clary Fray just wishes that her life would go back to normal. But what's normal when you're a demon-slaying Shadowhunter, your mother is in a magically induced coma, and you can suddenly see Downworlders like werewolves, vampires, and faeries? If Clary left the world of the Shadowhunters behind, it would mean more time with her best friend, Simon, who's becoming more than a friend. But the Shadowhunting world isn't ready to let her go — especially her handsome, infuriating, newfound brother, Jace. And Clary's only chance to help her mother is to track down rogue Shadowhunter Valentine, who is probably insane, certainly evil — and also her father.
To complicate matters, someone in New York City is murdering Downworlder children. Is Valentine behind the killings — and if he is, what is he trying to do? When the second of the Mortal Instruments, the Soul-Sword, is stolen, the terrifying Inquisitor arrives to investigate and zooms right in on Jace. How can Clary stop Valentine if Jace is willing to betray everything he believes in to help their father?
Details
Series: The Mortal Instruments #2
Genre: YA Paranormal/Urban Fantasy
Published: Margaret K. McElderry Books, 2008
Pages: 453
Paper copies: Amazon.com • Amazon.co.uk • Book Depository
E-copies: Amazon.com • Amazon.co.uk • Barnes & Noble • Bookworld (ePub)

Please note: This review is for the second in the Mortal Instruments series and so contains spoilers for the first book, City of Bones. You may wish to read my review of that book instead!
---
Review
It's been quite a while since I read City of Bones, but after I saw the film recently I was keen to get back into Jace, Clary and Simon's world to see what happens next. I didn't think the movie was done very well, but that's another story I'll rant about another time…
At the end of City of Bones, (spoiler incoming) [spoiler]Valentine has got away with the Mortal Cup, Clary's mother is lying in a coma in hospital and Clary and Jace have found out that they are brother and sister, and that Valentine is their Dad [/spoiler]. There's no time to clean up the mess before Alec and Isabelle's mother, Maryse turns up with the Shadowhunter Inquisitor, charged with finding out what is going on. Meanwhile, "Downworlder" children are being murdered in New York City and the Shadowhunters must find out who is behind it before they strike again.
In my City of Bones review, I mentioned I was disappointed by the cheesy one-liners that are everywhere in the dialogue (and I mean, everywhere). In City of Ashes the cheesiness is still there, but I think after having seen the movie and got used to the slightly toungue-in-cheek nature of Cassie Clare's storytelling style, I'll admit I didn't find it quite so annoying.
There are still some annoying things about the characters in this story, mind you. Jace, for one, was just so whiny and brooding all the time. I mean, he does have quite a lot to be brooding about, but he's always so grumpy, I'm not really sure what Clary sees in him! (my blogging buddy Philippa is going to kill me at this point, she loves Jace! Sorry!).
I did, however, enjoy the development in almost all the characters in this story – Simon's transformation, the development of Clary's powers, and the fact that we're never quite sure which side Jace is actually on until the very end. Also, there is an almost exquisite awkwardness about Clary and Jace's relationship. I'm going to hide this behind spoilers because really, if you haven't read City of Bones, you don't want to know yet! If you're in a feed reader, click through to see the spoiler.
[spoiler]I'm reasonably sure at this point that Clary and Jace aren't actually brother and sister because wow, that would be such a downer at the end of all their tension, but in this book they are trying to come to terms with this information and work through their confusion at how to behave towards one another. On top of all the awkwardness, I felt so sorry for Simon through all this! Anyway, enough spoilering 🙂 [/spoiler]
This series is written in such an engaging style – I struggled to put it down at all. I thought the storyline was a little thin, but it was the character interaction that kept me turning the pages all the way through.
Despite most of the plot threads being tidied away, City of Ashes ends on such a cliffhanger that I am almost having to jump right into the next book immediately!
Fans of YA Urban Fantasy, what are you waiting for? The Shadowhunters' world is waiting for you.
The Mortal Instruments
| | | |
| --- | --- | --- |
| | | |
|   |   | TBP May 2014 |