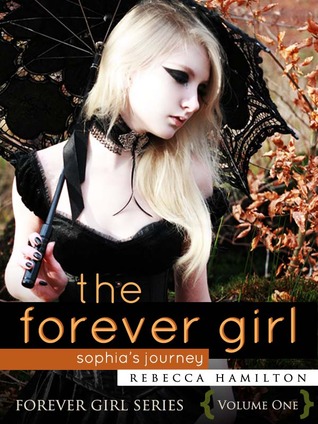 Title: The Forever Girl (Goodreads)
Author: 

 Rebecca Hamilton (@InkMuse)
Rating: 

Series: Forever Girl book 1 (of ?)
Genre: YA Paranormal Romance
Published: Immortal Ink Publishing, January 2012
Pages: 354
Paper copies: Amazon.com
E-copies: Amazon.com • Amazon.co.uk
Sophia lives in a small town where her Wiccan practices are disapproved of by the local church. Research into her family's history leads her towards finding out about the voices in her mind, but also leads her into a dark world where the vampiric Cruor rule. Can she trust the mysterious Charles after her friends turn away from her?
Review
I was given this copy of The Forever Girl by the Author herself in a Twitter giveaway. Paranormal romance isn't usually my favourite but I was so glad I went ahead and read it. This story is dark yet gripping – I had a hard time putting it down.
Early on in the story I couldn't help but compare it to Twilight a little: Girl meets mysterious, gorgeous boy who says "You shouldn't get attached to me, it's too dangerous", she says "OMG, get me some of that" and he protects her from the Vampire powers-that-be (I don't mean that as a slight on Twilight, by the way. I rather enjoyed the books when I read them – up until Breaking Dawn, anyway).
As the story moved forward, twists and turns made sure that I never knew what to expect next. The story was fast-paced and exciting and the Wiccan rituals and history of the Cruor and other elementals were fascinating.
Sophia was a great character – she was so strong and determined, but I felt so sorry for her by the end! She tries her hardest and faces each new challenge in a very believeable and engaging way. Charles, on the other hand, I did not connect well with. Apart from seeming a little too perfect, he drove me (and Sophia) mad with his hot/cold attitude – one minute telling her to stay away and acting all stand-offish and the next moment, whispering sweet nothings in her ear. I wanted to slap him! The romantic scenes were well put together though and fit in well with the events in the story.
I really enjoyed reading The Forever Girl. It's a fantastic debut from Rebecca Hamilton, and I'll look forward to the release of book two, Her Sweetest Downfall, later this year.
Read this book to your little 'uns? Not if you don't want them to have nasty nightmares! Also, language and adult content.
Challenges: I read this book as part of the Immortal Reading Challenge – Vampires.