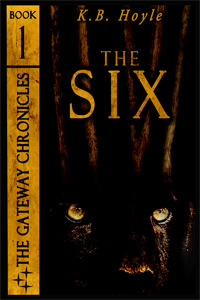 Title: The Six (Goodreads)
Author: 

 K.B. Hoyle (@kbhoyle_author)
Rating:





Darcy Pennington hates her life. She is an insufferably average teenager with no real friends, crushing social anxiety, and an indescribable sense of not fitting in anywhere. A change in her dad's job forces her to attend Cedar Cove Family Camp the summer before her eighth-grade year, and Darcy once again finds herself on the outside of a social circle of teenagers, with her only advocate being an awkward girl named Samantha Palm. The only problem is, Darcy has no desire to be friends with her, but as the hostility from the other teenagers increases, she decides to return the friendship.
When Darcy begins to experience strange magical occurrences, she comes to believe she's either losing her mind or on the brink of a discovery that could give her purpose in life. After unwittingly stumbling through a magical gateway to a new world called Alitheia, she convinces Sam and the other four teenagers to travel there with her, and despite their earlier hostilities toward her, they eventually concede leadership of their small group to Darcy. Once there, they learn the "arrival of the Six" was prophesied hundreds of years before, and that they must expel an ancient evil from the land. In the end their lives, and the fate of Alitheia, will hinge upon Darcy. Will she have what it takes to fulfill her mysterious purpose? Or will she fall prey to a deadly foe?
Details
Series: The Gateway Chronicles #1
Genre: Middle-grade/Young teen Fantasy
Published: The Writers Coffee Shop, April 5, 2012 (first published in 2009)
My Copy: Digital ARC from Netgalley
Paper copies: The Writers Coffee Shop
E-copies: Amazon.com • Barnes & Noble
Review
Have you ever had a feeling when you visited a natural location that there was something magical about the area? Five children, now teenagers, have been having that same feeling each summer when their families have come to Cedar Cove to camp . This year, Darcy and her family have joined the other families, and that magical feeling is about to lead the six teenagers into another world – Aletheria.
I loved reading about the world of Aletheria and the creatures in it! The story is a bit The Lion, The Witch and the Wardrobe, a bit Harry Potter – it's just the sort of thing I loved to read when I was middle-grade-aged.
The story drew me in from the first chapter, mainly owing to the realistic portrayal of the characters. Darcy and her family sound just like a real family going on holiday where the teenager doesn't want to be there and the little brother is super-annoyingly-excited.
Hoyle has perfected Darcy's "no-one understands me so I'll just go sulk over in this corner and avoid everyone" behavior, but unfortunately this leads to an odd outcome in the story – I couldn't help feeling that because Darcy was so busy avoiding everyone, the most interesting parts of the story happened to other people rather than her. The whole story is told from Darcy's point of view, which is fine in that we get to know her very well, but it means that she doesn't hear what the other characters are up to most of the time.
That aside, this is one of the best middle-grade stories I've read in a while. Each chapter led into the next and the action parts were very exciting. This was a fantastic introduction to the world of Aletheria, but as with many debut novels in series, I think the best is yet to come. I can't wait to get stuck into the second in the series,
The Oracle
. It's due for release in June and currently available on Netgalley.