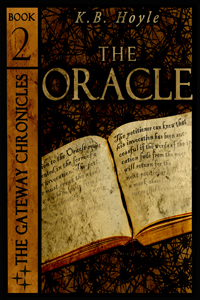 Title: The Oracle (Goodreads)
Author: 

 K.B. Hoyle (@kbhoyle_author)
Rating:





It is the summer before freshman year and Darcy and her five friends have come back to Cedar Cove Family Camp and Alitheia. This return is bittersweet because her elusive purpose in the magical realm continues to evade her. Egged on by Tellius, the boy prince she is prophesied to marry, Darcy rebels and impulsively "petitions" an entity called the Oracle and requests it give her information as to her purpose. In order to receive her answer she must travel to the Oracle, and so she embarks on a journey along with her friends and Yahto Veli, the nark. Too late she realizes her selfish entreaty has thrown the entire outcome of the prophecy itself into question and endangered everyone. 
Details
Series: The Gateway Chronicles #2
Genre: Middle-grade/Young teen Fantasy
Published: The Writers Coffee Shop, June 14, 2012 (first published in 2010)
Pages (Hardcover): 237
My Copy: Digital ARC from Netgalley
Paper copies: The Writer's Coffee Shop
E-copies: Amazon.com • The Writer's Coffee Shop
Review
The first book in the Gateway Chronicles, The Six, was re-released earlier this year and the story of The Oracle picks up a year later. The Six are now fourteen and they and their families are about to head back to Cedar Cove for another summer holiday. Hoyle has done a great job at gently reminding the reader of previous events, without bogging the story down with a long-winded retelling.
Once the teenagers arrive at Cedar Creek it's all systems go right to the end – there's none of the waiting around that irritated me a little in The Six. There's a challenge around every corner and the travellers must use every trick at their disposal to survive. The teenagers are gradually improving their talents and discovering their magic, and they surprise themselves and each other with their capabilities all along the way.
As I wrote in my review for The Six,  this is just the sort of thing I loved to read when I was middle-grade-aged. Gateways that lead to other worlds, magic, mythical creatures, fairies, princes, nasty shadowy baddies – it's all here!
I'm really enjoying the development of relationships between all the characters and I can see that we're in for a treat in the next few books as they all get older and more mature. I love the playful Dean and Perry moments, but these two started to show their more serious sides as well in this book. We didn't see enough of Sam though! I think she's adorable. Darcy is much less moody and withdrawn now which is a refreshing change, but she still hasn't stopped making impulsive decisions and that gets them all into trouble. I'm also really interested in Colin now – he sounds like a troubled character who will develop into a central part of the story sooner or later.
The last couple of chapters felt slightly rushed to me, but tied up nicely ready for the next instalment.
Fans of fantasy of all ages will enjoy The Oracle. It's a perfect summer read for you northern hemisphere types, or a curl up warm winter book for the rest of us, but I do recommend picking up a copy of The Six first if you haven't read it. The next in the series, The White Thread, has already been self-published on Createspace, but I believe TWCS will be re-releasing it sometime soon.
Warnings: None, it's squeaky clean.
What did others think of The Oracle?
There's actually a blog tour of sorts on at  the moment, where the Writers Coffee Shop is posting links to all the reviews of the first two Gateway books. You can find a range of reviews there, but here's a small selection:
Girl Who Reads – "I thoroughly enjoyed this tale – I want to go back and read it again"
Ja citam, a ti? – "If you love books about magic, summer trips and everything Narnia alike – this is right choice for you."
Paperbook Princess – "If you have read the first book in this series, then you HAVE to read The Oracle, and if you haven't read The Six yet, read it… like yesterday!"