Armchair BEA has arrived for all those who can't make it to the real BEA! As the first event to kick off the week's festivities, participants in Armchair BEA will be answering some interview questions, then visiting and "meeting" other bloggers taking part. Sounds like great fun, right? Right!
Without further ado, my five answers:
1. Please tell us a little bit about yourself: Who are you? How long have you been blogging? Why did you get into blogging?
I'm Angelya and this is The Oaken Bookcase, a review site for Fantasy and Sci-fi books for all ages. Welcome! Do make yourself at home! I've been book blogging for just over three months now and I'm loving it, although it's super-busy. I wrote a gaming blog before this which was much more relaxed, but the fast-paced book blogging world has me hooked now. I blog because I love to read books and share what I thought of them with everyone!
While you're here, why not hang around and enter a giveaway or two? There are links on the sidebar there!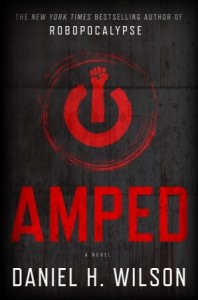 2. What are you currently reading, or what is your favorite book you have read so far in 2012?
I'm reading Amped by Daniel H. Wilson and I'm really enjoying it so far.
It's set in a not-too-distant future when neural implants make people more intelligent and "sharpen them up". Non-amped people (or the so-called "pure humans") feel threatened and want to level the playing field, and new laws allow anti-amped behaviour to basically becomes sanctioned prejudice. It's a very interesting look at society in general.
3. Tell us one non-book-related thing that everyone reading your blog may not know about you.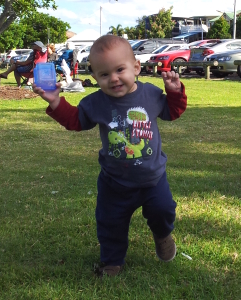 I have a little son who is 14 months old. At the moment he loves pulling board books apart, so I'm busily trying to teach him not to do that (*wince*). The actual Oaken Bookcase is in his bedroom! Also, he knows Meg and Mog and Where's Spot? by heart (well he makes noises at appropriate moments anyway).
4. What literary location would you most like to visit? Why?
Hogwarts, for sure. Do I really need to give a reason?
5. Have your reading tastes changed since you started blogging? How?
Yes, actually! I was really surprised when this happened – I'd been reading mostly epic fantasies for a few years, mostly re-reading what was on my bookshelves. At the start of the year when I started reading book blogs and then blogging, I was introduced to the wide world of young adult and middle grade fantasy, and also read a lot more science fiction in general. Now, I'm not loving the sci-fi as much anymore, and I am really getting into the YA and MG on offer! I'm really pleased because blogging has exposed me to a range of books I wouldn't normally choose to read, so now I have a better idea of what I really do like to read.
Now, make sure you go to the Armchair BEA site to check out all the other bloggers and their meet and greet posts! It was nice to meet you 🙂