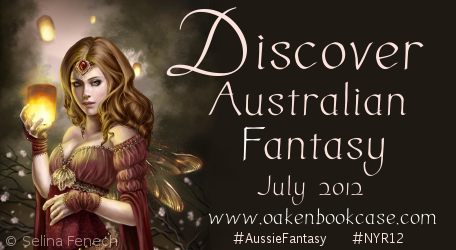 Welcome to the Discover Australian Fantasy feature! Do you like to read Fantasy books? Are you interested in learning more about Fantasy books by Australian authors?
During July, to tie in with the National Year of Reading's "Discover" month, The Oaken Bookcase will be devoted to Australian Fantasy books. I'm going to be reading and reviewing a variety of titles and I have several guest posts from fellow bloggers and authors lined up.
Why Fantasy?
Fantasy is my favourite genre to read, write and watch. It allows an escape from the pressures of every day life and allows imagination free reign.
In the foreword to his collection of interviews with fantasy authors, The Wand in the Word, Leonard S Marcus writes:
Fantasy is storytelling with the beguiling power to transform the impossible into the imaginable, and to reveal our own "real" world in a fresh and truth-bearing light.
For the purposes of this feature I'm including high fantasy, romantic fantasy, paranormal fantasy and a dash of dystopia. I'm also hoping to include adult, young adult and middle grade age groups in the mix.
Why Australian?
While reorganising my to-read list recently, I realised that there were quite a few books by Aussie authors sitting on my shelves that I hadn't actually read. I looked a little further and found there is a wealth of fantasy out there written by Aussie authors.
When asking a few people if they'd be interested in joining in with an Aussie fantasy month they said "Oh, but I don't know any fantasy books by Aussie authors." Well my friends, there are plenty. So many in fact that I may have to make this a regular event. In any case, I'm hoping to show you a few over the next few weeks. I hope you find something to add to your to-read list!
Here's a few of the authors whose work I'm planning to feature: Jo Spurrier, Melina Marchetta, Louise Cusack, Ian Irvine, Isobelle Carmody, Jay Kristoff… and more!
The Banner
The gorgeous artwork on the banner for the feature is called Floating Lights and the artist, the awesome Selina Fenech, kindly allowed me to use it to promote this feature. You can see more of Selina's beautiful fantasy artwork and books at her site, selinafenech.com.
The Giveaway
The Discover Australian Fantasy giveaway is now live! Visit the Aussie Fantasy page for all the details.
You can find all the updates throughout the month on the Aussie Fantasy page, linked from the button to the right and at the menu bar at the top of the site. Make yourself at home!